Aan een VIERDE boek wordt gewerkt!
zie: EEN NIEUW BOEK (3)
zie: Crowdfunding
zie: blader door dummy 'bewustzijn van schijn'

Reeds verschenen:
DE TAAL VAN DE DOOIWIND
zie: BLADER DOOR HET BOEK
zie: beoordeling door Kunstblog Blikvangen
DE TAAL VAN DE DOOIWIND …   
die Sprache des Tauwinds
the language of the thawing-wind
Marjolijn van den Assem 2014
Das Buch / the book
BLADER DOOR HET BOEK: op video
***
Nederlands/Duits/Engels
Formaat 24,5 x 34 cm.
Met twee horizontale leporello's, één verticale leporello
en vijf dubbelzijdige uitvouwpagina's
180 kleurenafbeeldingen
Gebonden
UItgeverij TAB Timmer Art Books i.s.m Lecturis Eindhoven
Fotografie: Fred Sonnega en Hans Timmer
Auteurs: Daan Van Speybroeck en prof.dr. Martine Prange
Vertaling duits: Kordelia Nitsch
Vertaling engels: Jane Hall
ISBN: 978-94-91182-22-8
PRIJS: € 37,50
***
BESTELLEN?
mail naar:
marjolijnvandenassem@me.com
***
zie: Boekpresentatie(1)
zie: Boekpresentatie(2)
zie: das Buch / the book
zie: Interview
zie: Buchpremiere
***
(…)written in the language of the thawing-wind: there is wantonness, restlessness, contradiction there (…)"
"Is it any wonder that much that is unreasonable and foolish thereby comes to light: much wanton tenderness, squandered even (…)"
I have dwelt between these two sentences written by Nietzsche in the preface of "The Gay Science" for the past seven years.,
In order to physically experience the thawing-wind I travelled from Sils-Maria in Switzerland to Genoa in Italy, the journey from which this text originated in 1886.
I searched for the language of the thawing-wind in Nietzsche's "snowed-in soul to which the thawing-wind speaks"*, in the landscape, but above all in the imaginary travels in my studio.
I identified with and rebelled against the natural force of the waterfall at Sils-Maria, the coquetry of the cascade in Genoa and the wayward whirlpools of the River Saale  in Naumburg, where Nietzsche grew up:
"der Nebel und ich ruhen auf dem Wasser"*.
Describing the various waterways through drawing them allowed my instinct to penetrate the language.
The "sunny places of thought"* liberated my points of view.
The colours of the sky that say it all above the immaculate beauty of Sils-Maria, the voluptuously yellow Genoa and the walled-in Naumburg on the River Saale made the light's power of expression truly illuminating.
The language of the thawing-wind experienced, deconstructed, melted down, squandered even…
* Posthumous fragments (1888)
* Nietzsche to Paul Deussen (Naumburg 1864)
* The Gay Science, preface to the second edition (autumn 1886)
Marjolijn van den Assem
(vertaling: Jane Hall)
***
BESTELLEN?
mail naar:
marjolijnvandenassem@me.com
Ook te koop in sommige (museum)boekwinkels.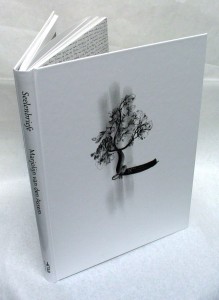 SEELENBRIEFE 2007
"Soulful letter",
as Nietzsche called one he received from Marie Baumgartner
Marjolijn van den Assem 2007
Uitgeverij TAB Timmer Art Books
Co-authors:
Drs. Jisca Bijlsma,
director Chabot Museum, Rotterdam, The Netherlands.
Prof. Dr. Paul van Tongeren ,
leader of the Nietzsche Research Group, Nijmegen, The Netherlands.
Marianne Vermeijden,
editor of NRC Handelsblad, The Netherlands.
Tom van As,
dance design/ visual artist.
Rob Smolders,
art critic/director of Museum de Wieger, Deurne, The Netherlands.
Translations (from Dutch):
Laura Martz (English)
Kordelia Nitsch (German)
Editor: TAB Timmer Art Books, Oosterhout, The Netherlands, 2007
€29,50
ISBN 978-90-810139-3-2
BESTELLEN?
mail naar:
marjolijnvandenassem@me.com
***
SEELENBRIEFE visualizes the complex friendship in a crucial period in the lives of Marie Baumgartner and Friedrich Nietzsche. Marie Baumgartner was the mother of Nietzsches most talented pupil in Basel. A correspondence arose between them. After Marie, who was bilingual, offered to translate Nietzsche's work into French, he shared more and more of his mental world with her. Her letters evidence a strong intellectual impulse, affection, fellowship, recklessness and confusion. When Nietzsche set off for Sorrento (Italy) in 1876, Marie stayed behind in Lörrach and continued to work on her translations. In thanks, Nietzsche and his companions picked a bouquet of wildflowers on their daily walk in the hills and sent it to Marie.
Her whole house smelled of Italy, she wrote, and made her "long to be among kindred spirits". By re-writing Marie's letters Marjolijn van den Assem made them her own. By picking a similar wildflower bouquet in the same place, on the same day but 125 years later, the artist let the flowers tell their story. By drawing, painting, cutting, stapling and folding sheet steel (sculptures) around herself, she became part of the Baumgartner/Nietzsche-relationship and could report from the inside.
About the author:
Marjolijn van den Assem (Rotterdam, The Netherlands, 1947) is a respected and well known Dutch artist. Her work (drawings, paintings, sculptures) is represented in 10 Dutch Museums of Modern Art and in public- and private collections. Since 1979 she is inspired by the work of Friedrich Nietzsche, what others have written about it and by the places where Nietzsche stayed.
zie: Marie Baumgartner
zie: Seelenbriefe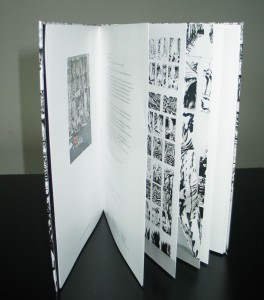 Sgelare 2010 Marjolijn van den Assem
SGELARE: hardcover, genaaid gebonden
TAB Timmer Art Books
36 pagina's 750 stuks
ISBN 978-90-807206-5-7
Euro 15,00
Bestellen? Mail naar:
marjolijnvandenassem@me.com
Eine verschneite Seele, der ein Thauwind zuredet…
(the wind that thaws ice and snow, tenderly convincing a frozen soul to melt)
I found these poetical lines in Friedrich Nietzsche's Nachgelassene Fragmente from 1888.
Nietzsche thought that being amidst the eternal snow in Sils-Maria during the summer, opposed to being affected by the influence of the Mediterranean culture of Genova during the winter, had made his thinking more passionate.
Because he felt like his body and spirit were thawed by the South, he called his style of writing in Genova: "the language of the wind that thaws ice and snow". It became a hymn to life, a song of praise to the Mediterranean way of living, just as colourful as the South itself.
Nietzsche described the language of the wind that thaws ice and snow like this:
"Is it any wonder that in the process much that is unreasonable and foolish comes to light, much playful tenderness that is lavished even on problems that have a prickly hide and are not made to be caressed and enticed?"
Which is a great example of his lean and powerful way of thinking, of his dancing mind.
By following Nietzsche's footsteps in Genova and in Sils-Maria, not only imaginary but also literally, I have tried to experience the language that thaws ice and snow.
During my trips I stumbled upon two completely different waterfalls, which I have embraced.
In addition to The Seelenbriefe-project, which took me 7 years to complete, I now present a selection of drawings, paintings and paper sculptures, expressing the first part of my personal encounter with the wind that thaws ice and snow.
This book offers a glimpse of the works created between 2007 and 2010.
Sgelare = the process of thawing:
* a period of warm weather during which ice and snow melt.
* a relaxation of reserve, restraints, or tensions.
zie: de taal van de dooiwind
zie: Rasch (Sgelare)
zie: Jenseits des Nordens
EEN NIEUW BOEK
bewustzijn van schijn
wordt in april 2021 verwacht!
zie: Een nieuw boek (3)
zie: blader door dummy van 'bewustzijn van schijn'