artist-in-residency
May 3rd, 2012, 7:52 am Marjolijn Uncategorized
…to make one's presence(absence) felt…
Wegens een "artist-in-residency"-verblijf in Naumburg(Saale), Duitsland, zal ik deze zomer regelmatig in het Nietzsche Dokumentationszentrum te vinden zijn.
Daar bevindt zich o.a. die Sammlung Richard Frank Kummel: "die als die größte private Sammlung zur Nietzscherezeption im 20. Jahrhundert angesehen wird".
In het kader van een Onderzoeks– en Ontwikkelingssubsidie verdiep ik mij bovendien verder in Nietzsche's sporen rondom zijn geboortegrond.
Mijn solo-tentoonstelling "Seelenbriefe" zal nog t/m 20 augustus 2012 in het Nietzsche Dokumentationszentrum Naumburg (Saale) te zien zijn .
zie: Aktuelle Ausstellungen:
Nietzsche Dokumentationszentrum Naumburg(Saale)
zie: Nietzsche Dokumentationszentrum Naumburg(8)
zie: Trouw
PS: the Daily Drawing-serie zal hierdoor tijdelijk worden onderbroken…


Het pad gaat hoger straks
de heuvel op, daarachter schuilt gevaar
of veiligheid? In elk geval
vervolg van weg, een bocht
en dan de trage afloop naar het dal
waar water smiespelt
om het badend gras. (…)
Remco Campert(detail)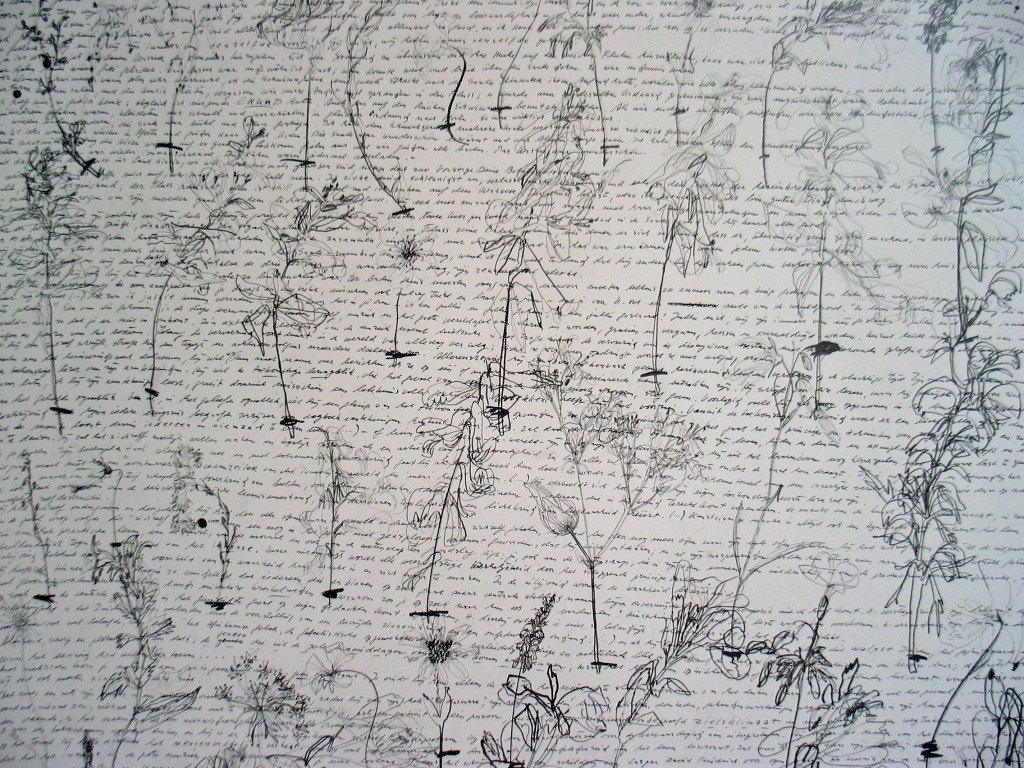 SaaleQuelle(6) (detail) 2012 inkt/potlood op papier 122 x 92 cm.
zie: presenza(assenza)(4)
zie: presenza(assenza)(3)
zie: presenza(assenza)(1)
zie: presenza(assenza)(2)
…en ik neem mee….:


zie: Paul van Tongeren
zie: Niels Helsloot
zie: Nietzsche-portal.eu
zie: O & O-subsidie