"there is still another world to discover – and more than one!
Aboard ship!"*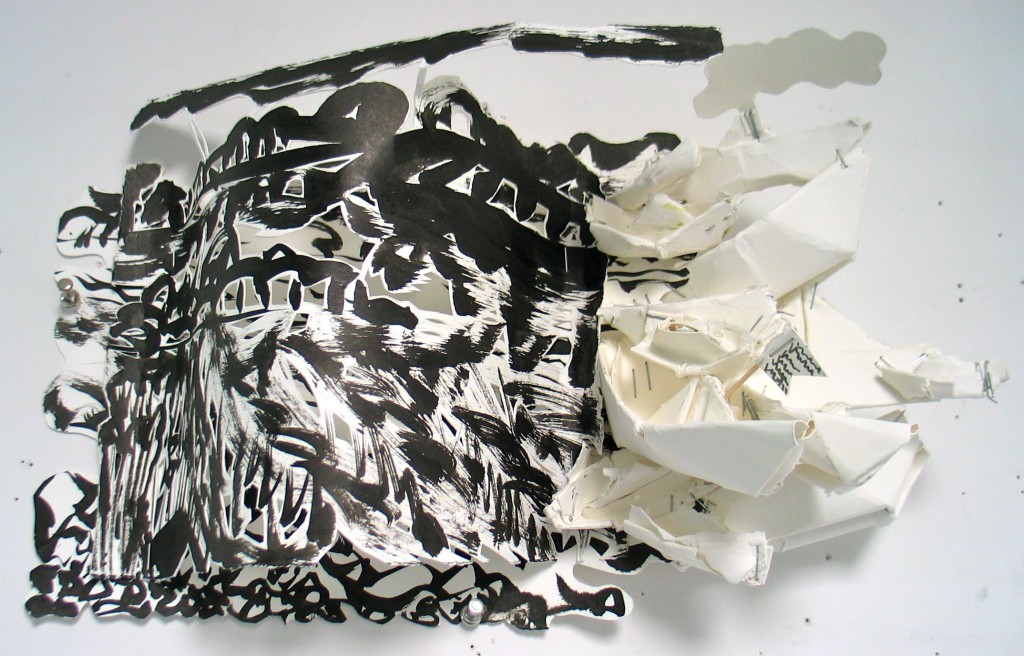 Scheepvaart (naar Signac) 2013
o.i. inkt/nietjes op museumkarton 27 x 45 x 15 cm.
zie: Inschepen!(1)
zie: Inschepen!(3)
Een schip is een vervoermiddel voor transport over wateroppervlakken.
Het belangrijkste kenmerk van een schip
is het DRIJFVERMOGEN,
dat bij waterverplaatsende schepen,
de meest voorkomende scheepsvorm, wordt geleverd door de romp.
Deze constructie zorgt voor de sterkte
en waterdichte afsluiting van een schip.
Een ander belangrijk kenmerk is dat een schip zichzelf
kan voortbewegen.
Naargelang de functie van een schip worden er eisen gesteld
aan de hydrostatische en hydrodynamische eigenschappen.
Voldoende STABILITEIT is een voorbeeld van het eerste,
terwijl WEERSTAND, ZEEGANGSGEDRAG
en MANOUVREERBAARHEID voorbeelden zijn van het laatste.
Van groot belang is verder de keuze van de VOORTSTUWING.
inschepen!(4) 2013 museumkarton/nietjes/inkt 73 x 70 x 26 cm.
Inschepen! – Overweegt men, wat voor uitwerking
op iedere enkeling een algemene filosofische rechtvaardiging
heeft van zijn manier van leven en denken –
namelijk gelijk een verwarmende, zengende, bevruchtende,
voor hem persoonlijk stralende zon,
zoals zij onafhankelijk maakt van lof en afkeuring,
autarkisch, rijk, vrijgevig met geluk en welwillendheid,
zoals zij onophoudelijk het boze tot goed herschept,
alle krachten tot bloei en rijping brengt
en het kleine en grote onkruid van verdriet en ongenoegen
in de kiem smoort – dan roept men ten slotte verlangend uit:
O, dat er nog veel zulke nieuwe zonnen geschapen worden!
…
Er is nog een andere wereld te ontdekken-
en meer dan één!
Inschepen, gij filosofen!

De vrolijke wetenschap (289) Friedrich Nietzsche
*"there is still another world to discover – and more than one!
Aboard ship! ye philosophers!"
(Friedrich Nietzsche)
zie: Lichtzwaar!(3)
zie: pinus halepensis(1)
zie: Inschepen!(1)
zie: Inschepen!(3)
zie: Averij
zie: exhibition-view