In het atelier van Geert Baas (detail)

In het atelier van Geert Baas (detail)
We zijn buren.
We zijn beeldend kunstenaars.
Onze werkwijze verschilt hemelsbreed,
maar de waardering voor ieders eigen vakmanschap
is er niet minder om.
Daarom gaan we officieel bij elkaar op atelierbezoek.
Geert Baas vindt wat hij niet zoekt.
Hij componeert, overweegt bedachtzaam.
Zijn geschilderde tekening of is het een getekende schildering(?)
-van een raadselachtige taal-
ontbeert een wederhelft.
Het kan uren,
weken of jaren duren totdat Geert Baas
de eenheid van de delen gevoelsmatig
tot stand weet te brengen.
Dan blijkt dat deze twee-eenheid niet anders kón dan bestaan.
Die stille vanzelfsprekendheid wekt bewondering.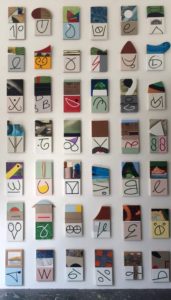 zie: atelierbezoek(1)
zie: atelierbezoek(2)
zie: atelierbezoek(3)
zie: atelierbezoek(4)
zie: atelierbezoek(5)
zie: atelierbezoek(6)
zie: atelierbezoek(7)
zie: atelierbezoek(8)
zie: atelierbezoek(9)
zie: atelierbezoek(10)
zie: atelierbezoek(11)
zie: atelierbezoek(12)
zie: atelierbezoek(13)
zie: atelierbezoek(14)
zie: atelierbezoek(15)
zie: atelierbezoek(16)
zie: atelierbezoek(17)
zie: atelierbezoek(18)
zie: atelierbezoek(19)
zie: atelierbezoek(20)
zie: atelierbezoek(21)
zie: atelierbezoek(22)
zie: atelierbezoek(23)
zie: Atelierbezoek(24)
zie: Atelierbezoek(25)
zie: atelierbezoek(26)