Exhibition: "Small Works", surprising and small unexpected splendour.
Opening:  25-10-2009,  16.00 h
RAM Foundation, Rotterdam NL
by Hein van Haaren , art historian.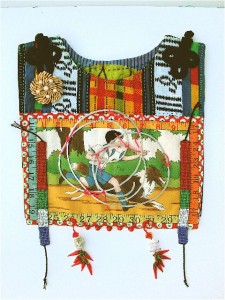 Hendri van der Putten
"Beukje" 2009 (boven: voorkant/ onder: achterkant)
lapjes, kraaltjes,bandjes, vintage sieraad
en zilver 30x25cm elk

"In Zeeland is het dragen van klederdracht
nog niet zo lang geleden verdwenen.
Veel zeeuwse mensen hebben nog
een opoe of moeder in dracht gehad.
Mijn belangstelling gaat vooral uit
naar een onderdeel van de dracht: het beukje.
Het beukje, in vorm lijkend op een slabbetje
op de borst en op de rug, bestaat uit
twee met bandjes en kraaltjes versierde lapjes.
Als pronkstuk werd op de beuk een familiesieraad gedragen.
k las dat vrouwen een nieuw lapje geduldig versierden
met de nog bruikbare bandjes en kraaltjes
van een versleten beukje.
Zo zijn op elk nieuw beukje weer delen
van eerdere beukjes te vinden.
Dit laatste spreekt me aan, de vorm is een tijdelijke,
hij verandert door de jaren."
Hendri van der Putten, oktober 2009
www.hendrivanderputten.nl
récolte de septembre (langs de Lek) 2009
acryl op museumkarton 25x32cm (ingelijst)
Marjolijn van den Assem
Bovenstaande werken zijn te zien
en te koop op de tentoonstelling "Small Works".
zie: Exhibition RAM
zie: inrichting