There's kinship in our work…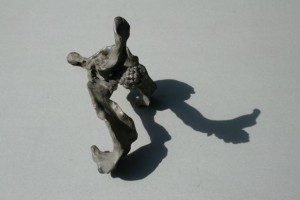 Blossoming 2009 brons 13 x 18 x 11 cm
Hieke Luik
Dramatisch, poëtisch, sterk en teder,
schaduwtekeningen kiezen het luchtruim.
Tastbaar aards:
Blossoming 2009 brons 13 x 18 x 11 cm
Hieke Luik
Op 18 september 2009 om 17.00uur vindt de onthulling plaats van het beeld:
"De Trittai" van Hieke Luik
"De Trittai" staat op een sokkel bij de vijver, hoek Moeflonstraat / Kennedylaan in Apeldoorn, waar voorheen het beeld 'De Drie Gratiën' van Zadkine stond.
zie blog Hieke Luik: http://www.hiekeluik.blogspot.com/
zie ook: The estate of Eva Hesse
Verwant:
Foxgloves, ripeness and deterioration (detail) 2009
Marjolijn van den Assem
potlood op papier 93x61cm elk
zie: Noëlle Cuppens
zie: Splash!
zie: Nieuwe beelden klaar!