Moritz Ebinger, Sonia Rijnhout
"Peinture Céramique"
Een hedendaagse "Salon d'Automne"
naar voorbeeld van Galerie Ambroise Vollard in Parijs (1907)
waarbij schilders op keramiek een onbekend terrein betraden
(zie persbericht onderaan).
MuseumGoudA
19 maart t/m 29 mei 2010
Achter de Kerk 14
Gouda
Hieke Luik

Roland Sohier, Dorian Hiethaar

Carel Blotkamp, Gijs Assmann, Helen Frik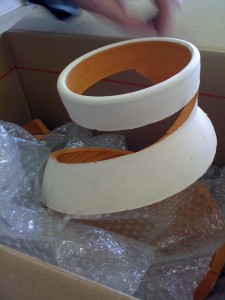 Paul van Dijk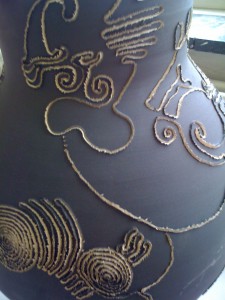 Moritz Ebinger

vazen voor MuseumGoudA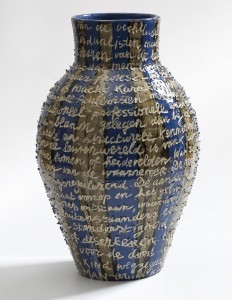 "Kennis is Macht, Karakter is Meer",
vaas 2009 Marjolijn van den Assem
slibschildering/beschreven H 40 cm/Ø 28 cm
(bovenstaande foto: Hermen Buurman)
Voor tekst op vaas zie: Adelborsten
PERSBERICHT:
Op 19 maart 2010 wordt de tentoonstelling 'Peinture céramique' geopend door Ranti Jan, directeur European Ceramic Work Centre in Den Bosch. Voor deze unieke tentoonstelling werden 17 bekende kunstenaars gevraagd om op ´biscuit´ (aardewerk) te werken in plaats van op doek. Kunstenaars raakten geïnspireerd door hun relatieve onbekendheid met het materiaal 'gebakken klei' en dit heeft geleid tot bijzondere, onverwachte resultaten. De expositie is te zien tot 30 mei 2010.
Op initiatief van de Franse kunsthandelaar Ambroise Vollard werkten in 1907/8 een aantal beeldend kunstenaars in het atelier van de keramist André Metthey, die zijn werkplaats had in Asnières, een voorstad van Parijs. Maurice de Vlaemink, Henri Matisse, André Derain, Georges Rouault, om enkele van de bekendste kunstenaars te noemen, werkten op vazen en wandborden die vervolgens geglazuurd en gebakken werden. Bij elkaar zijn er toen meer dan 300 stukken gemaakt die zich door hun spontaniteit en kleurenrijkdom onderscheidden van de 'officiële' keramiek van rond 1910. Vollard exposeerde veel van dit werk en hoopte dat er een stimulans van uit zou gaan ter vernieuwing van de eigentijdse keramiek. De reacties waren positief, Vollard verkocht echter niet veel. Een groot deel van deze collectie schonk hij in 1936 aan het Musée d'art moderne van Parijs waar zij nu tot de belangrijkste onderdelen van de collectie behoren.

In maart 2010 bestaat de SBB keramiekopleiding Gouda 100 jaar en in dat kader werden op initiatief van museumgoudA beeldend kunstenaars uitgenodigd om elk twee siervazen te beschilderen, min of meer als in Parijs zo'n 100 jaar eerder. Schilderen op keramiek lijkt eenvoudig en vergelijkbaar met werken op doek of papier, maar de kunstenaar werkt met verf of slib die pas kleur krijgen nadat de vaas in de oven is geweest. Bovendien kan er niet gecorrigeerd worden en er moet gewerkt worden op een ruimtelijke vorm, een vaas waarvan de voorstelling rondom moet worden aangebracht. Hoewel lang altijd even gemakkelijk te realiseren voor de deelnemende kunstenaars, heeft het een aantal prachtige, onorthodoxe vazen opgeleverd.

In april 2009 hebben Marjolijn van den Assem en Roland Sohier de spits afgebeten in het atelier van Niek Hoogland in Tegelen. Beide kunstenaars doen ook nu weer mee, tezamen met kunstenaars Gijs Assman, Carel Blotkamp, Lisa Couwenbergh, Paul van Dijk, Moritz Ebinger, Lizan Freijsen, Helen Frik, Bettie van Haaster, Dorian Hiethaar, Gabriëlle van de Laak, Hieke Luik, Sonia Rijnhout, Arjanne van der Spek, Hans Tutert en Mary Waters.
Vanwege het 100-jarig bestaan van de keramiekopleiding in Gouda is er in museumgoudA ook vrij werk te zien van de docenten, die het project ´Peinture céramique´ begeleid hebben en de deelnemende kunstenaars stimuleerden tot prachtige, veelal onverwachte resultaten.
zie: Peinture Céramique (1)
zie: Peinture céramique (2)