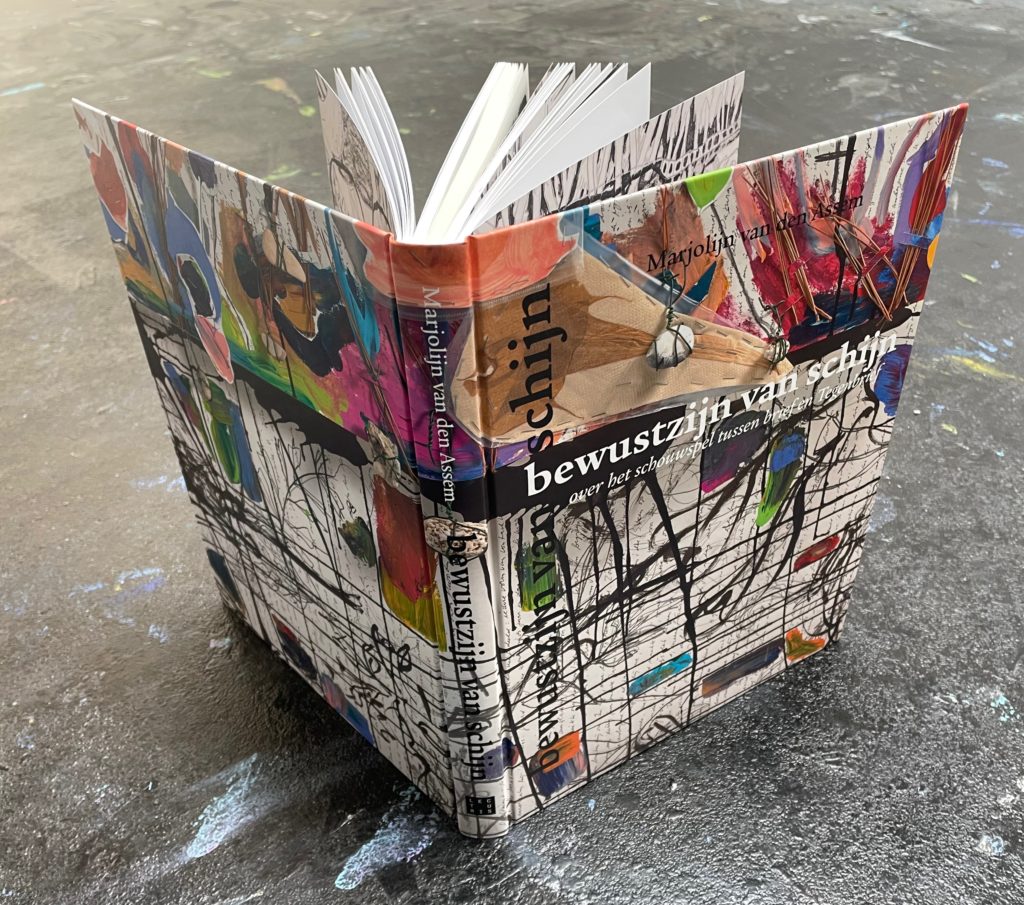 De tentoonstelling bewustzijn van schijn
is voorbij, maar het BOEK is gebleven!


bewustzijn van schijn
over het schouwspel tussen brief en Tegenbrief
Bestel het boek bij mij, zie: Webshop
Of bij Lecturis: bewustzijn van schijn
Of bij de boekhandel!
zie: bewustzijn van schijn – boek(3)
zie: bewustzijn van schijn – boek(4)
zie: The Art of Printing


bewustzijn van schijn
over het schouwspel tussen brief en Tegenbrief
Voorwoord
Een brief die Friedrich Hölderlin schreef
aan een vriend als reisverslag,
schreef ik 350 keer over met kroontjespen.
Ik keek met hem mee naar het landschap
zoals hij het beschrijft en leefde me in
in de oproep waarmee hij zijn brief besluit:
"Schrijf me toch snel.
Ik heb je zuivere tonen nodig.
De ziel die heerst onder vrienden,
het ontstaan van gedachten in gesprek en brief
zijn voor kunstenaars onontbeerlijk."
Zo werd ik me er opnieuw van bewust
dat de woorden zich vormen
uit de gemoedstoestand.
De beweging van de stap, het op- en neerkijken,
de kleuren van de lucht, de geur van de storm,
de zich buigende bomen, dat alles beïnvloedt
de vorm waarin gedachten worden gegoten.
Bij de 325ste overschrijving infiltreerde ongewild
een Nietzsche-citaat in Hölderlin's tekst:
"er is iets ongestilds, iets onstilbaars in mij,
dat zich wil laten horen."
De essentie van het kunstenaarschap.
Dat leidde me terug naar twee aforismen
van Friedrich Nietzsche in zijn boek
De vrolijke wetenschap:
'Het bewustzijn van de schijn' en
'Onze uiteindelijke dankbaarheid jegens de kunst'.
Het uitdiepen en beeldend doorgronden
van deze twee stellingen hebben me
in de richting gevoerd van het schouwspel.
Het bezien van het dagelijks leven
vol plichtplegingen, conventies en richtlijnen.
Het theater waar we in functioneren,
daar waar de vermomming doel treft
en de vernislaag glanst, bracht me naar
de waarheidsgraad van nieuwsvoorziening,
het spel van de troubadours.*
Zij die door interpreteren
de woorden in een volgorde dwingen.
Welke ondermijning moet wanneer ontleed worden?
In de berm langs de vluchtweg
uit Nietzsches voortdurend in twijfel getrokken
visioenen, vond ik het woord 'veinzing'.*
In juridische zin houdt dit een Tegenbrief in,
geschreven en vastgelegd
als onderhandse overeenkomst die
een notariële acte begeleidt in het criminele circuit.
Deze parallelle waarheid schreeuwde om uitzicht.
Mijn serie getekende Tegenbrieven rammelde
aan de ketenen van tekst.
Een afrekening tot de botten bloot lagen
ontpopte zich als mijn correspondentie
met de buitenwereld.
Ik schreef de Tegenbrieven vanuit
een onneembare en ondefinieerbare vesting.
Een 'Domaine indéfinissable'.
Daar werden maliënkolders overbodig.
De rekwisieten stonden er paraat
voor mijn eigen stellingname.
Er kwam ruim baan voor bewustzijn van schijn.
Daar waar een streng regime
de oneindige mogelijkheden vrijgaf
aan een vallei van eigengereidheid,
toonde zich mijn dankbaarheid jegens de kunst.

Marjolijn van den Assem
* Een troubadour is van oorsprong
een middeleeuwse kunstenaar,
vooral begaafd als muzikant-dichter.
Troubadours waren actief in het Franse taalgebied.
Het woord troubadour is afgeleid
van het Occitaanse woord "trobar",
dat 'vinden' of 'bedenken' betekent.
* Veinzen: iemand in de waan trachten te brengen.