Nothing But Good
is a blog where invited artists show that they stand in a tradition
by expressing their commitment to an inspiring, no longer living predecessor.
Nothing But Good Should Be Said Of The Dead.
A blog by Michael de Kok, René Korten and Reinoud van Vught
Nothing But Good-art-blogspot,
met plezier leverde ik mijn bijdrage,
vanzelfsprekend over Artonin Artaud:
La Tête bleue 1946 Crayon et craies de couleur sur papier, 63 x 48 cm.
Artonin Artaud.
collection: Centre Georges Pompidou
Voor Nothing But Good
schreef ik over Antonin Artaud:
"Over tien jaar word ik begrepen (…)
dan zal men mijn geisers kennen,
mijn ijsspiegels zien,
men zal geleerd hebben mijn giffen onschadelijk te maken,
mijn ziele-spelen zullen aan het licht worden gebracht." ***
Overgeschreven hangt deze bezweringsformule al jarenlang aan mijn atelierwand.
Is het mogelijk om zich ten volle uit te drukken
door totale overgave aan het handschrift?
Door het lijfelijk deel uitmaken van een creatie,
de hand als seismograaf, bereikte Artaud mij.
Zijn vervoering sprak mij aan, ik verstond.
Het heeft voortgestuwd, vruchten afgeworpen, gewerkt.
Inmiddels -zijn bewijzen verhuld binnen handbereik-
vond ik mijn eigen uitdrukkingsmethoden, sans gêne.
Verregaande identificatie met het onderwerp als leidraad.
Het papier, karton als kompaan, hand in hand,
ingewand naar buiten gebracht, uitgedacht voorwaarts.
De rechtstreekse soberheid van grafiet door Artaud voorgespiegeld,
werd toonbeeld van volkomenheid.
Zó moet het, laat het zo zijn, tekende,
oreerde en vomeerde hij, het is niet verspild.
Marjolijn van den Assem 2016
zie: Nothing But Good
*** schreef Antonin Artaud in "Navel der Onderwereld" (1925)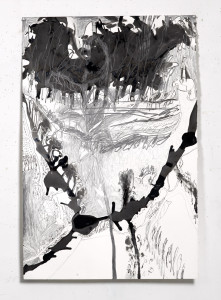 Saale – Revier(10)
2012 o.i.inkt/potl./grafietstift op museumkarton
92 x 61 cm Marjolijn van den Assem
(foto: Hans Timmer)
I am understood in ten years time (…)
then they will know my geysers,
see my ice mirrors,
they will have learned to detoxify my poisons,
my soul play will be brought to light.
Antonin Artaud in 'Umbilicus of the Underworld'/'L'Ombilic des Limbes' (1925)
This incantation is hanging copied on my studio wall for years now.
Is it possible to express oneself fully
by complete surrender to handwriting?
Artaud touched me by physically being part of a creation,
the hand as a seismograph.
His ecstasy appealed to me, I understood.
It has impelled, paid off, it worked.
Meanwhile -his evidence within reach, but concealed-
I found my own expression methods, sans gêne.
Guided by extensive identification with the subject.
The paper, cardboard as companion, hand in hand,
bowel brought outwards, thought forward.
The direct simplicity of graphite as suggested by Artaud,
became a paragon of perfection.
That's how it must be, let it be so, that's how he drew,
created and vomited,
it is not wasted.
(translation by Nothing But Good)
zie: Ziele-spelen: Artaud