NU! NU! NU! NU! NU! NU! NU! NU! NU! NU! NU! NU!
de KETELFACTORY Schiedam: Ontmoeting#2:
WIJDBEENS
Roland Sohier nodigt Robbie Cornelissen en Harm Hajonides uit.
28 maart t/m 16 mei
Distillatiedag: 25 april 2010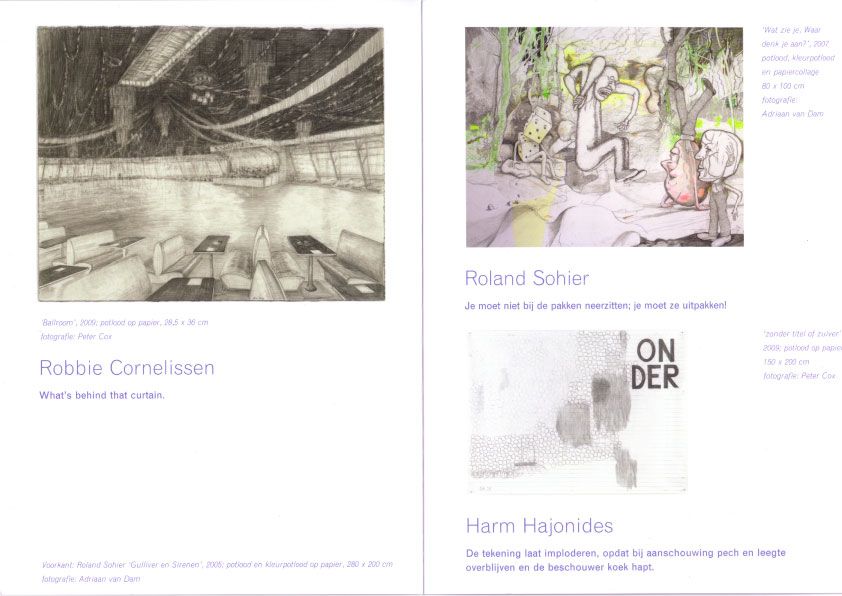 "Oei, het begint te tekenen!" (Ketelklas)
'De tekening moet niet willen winnen.
De tekening moet durven verliezen.
De tekening is er niet om de kijker te overtuigen
van zijn bestaansrecht.
Tekeningen mogen op sommige momenten begeesterd
en krachtig en jubelend jodelend zijn,
op andere plekken binnen dezelfde tekening
mogen zij gerust inzakken en slap monomaan
voor zich uit krassen of ongeinteresseerd
heen en weer geveegd zijn tot de punt versleten was.
Tekeningen zijn niet groots maar nog minder klein,
misschien wel diffuus of nurks van verveling.
Binnen de tekening worden nalatigheden niet weggepoetst
om tot een produkt te komen dat staat als een huis.
Dat huis is immers niet waar'.
Harm Hajonides
VERWACHT! VERWACHT! VERWACHT! VERWACHT!
De KetelFactory Schiedam:
Florette Dijkstra nodigt Marjolijn van den Assem
en Frank van den Broeck uit.
30 mei t/m 11 juli
Distillatiedag: 13 juni 2010
De KetelFactory Schiedam
Hoofdstraat 44
3114 GG Schiedam
info@deketelfactory.nl
Geopend vrijdag t/m zondag
van 13.00 – 17.00 uur en op afspraak.