In de polder (3) 2008 acryl/o.i.inkt/nietjes
op museumkarton 45 x 26 x 20cm.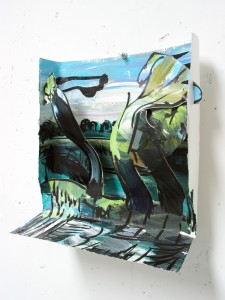 In de polder (5) 2008
acryl/o.i.inkt/nietjes op museumkarton
28 x 28 x 13cm.
Het landschap is altijd anders.
Het is wijds of woest, vlak, vol of vaal
en ik doe het ermee, ik zit daar nu toch
en dat ging niet vanzelf.*
Als ik de oogst van een buitenschilderdag
op de muur van mijn atelier heb getimmerd
en ga zitten om te kijken, volg ik de vervoering.
Wáár ging het schilderen met me aan de haal,
van het handschrift valt te leren,
ongeacht het weiland, de horizon, de bomen
of de wolken die zich opdringen.
Daarná, als de schildering zich heeft leren kennen,
begint soms het snijden en het nieten.
Voortvloeiend uit de herinnering aan die dag
vormt zich een ambiance, een theaterdecor,
een plaats om in te figureren.
Het gaat als vanzelf, het is er al,
ik volg de instructies die het stilgezette landschap
geeft en -alsof het gedrukt staat- ontstaat
uit twee, drie of meerdere schilderingen
de plek waarop ik mij bevond:
kijk, dáár zat ik, tussen die twee nietjes…
vice-versa
Het ontzagwekkende landschap dwingt tot volgzaamheid.
Ik versnij het naar de vorm van mijn herinnering.
Dan pas vallen we samen.
* zie: buitenschilderen