FILM van Margriet Luyten:
Levenswerk II: De kunstbemiddelaars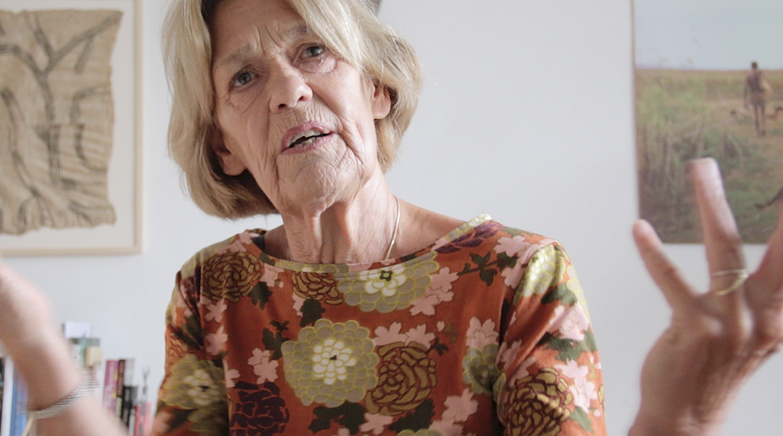 Video still Liesbeth Brandt Corstius
"Je moet de ruimte scheppen
om die bemiddeling mogelijk te maken,
om dat contact goed te laten lopen."
uit: Levenswerk II: De kunstbemiddelaars
video still Rudi Fuchs
"Iemand maakt iets
en dat maken is nog nooit gemaakt daarvoor –
en dat is een WONDER!"
Lees hier de gloedvolle, belangrijke en
vooral toepasselijke VOORDRACHT
van Heske ten Cate
bij de Amsterdamse première
van de film  'De kunstbemiddelaars'
van Margriet Luyten
in de kunstruimte van De Nederlandsche Bank
op 30-8-2018:
'Nieuwe woorden voor de bemiddelaar
In de nacht van 24 op 25 januari van dit jaar pakt een boekverkoper
van Amazon het allerlaatste exemplaar 1984 van George Orwell in.
De paperbacks, de hardcover exemplaren, zelfs
de stoffige tweedehandsjes zijn daarmee uitverkocht.
De grootste boekverkoper van de wereld heeft zijn schappen leeg.
Hoe komt het dat een bepaald boek, uitgegeven net na
de Tweede Wereldoorlog ineens een tweede leven krijgt?
Iets in het tijdsgewricht, een gebeurtenis, een verschuiving,
doet ons collectief verlangen naar een bepaald verhaal.
Ik stofte mijn exemplaar af en las de profetische dystopie.
Het gaat over het gebrek aan privacy, en over fake news.
Beiden zeer actueel en relevant voor deze tijd.
Maar meer onderhuids gaat het over een thema
dat kunstbemiddelaars aangaat:
woorden en taal.
–
Identiek geklede mannen en vrouwen zitten naast Winston Smith,
de protagonist uit het verhaal, aan een grote eettafel
met een bord nep-vlees voor hun neus (dat 'doubleplusgood' smaakt).
Een zweterige man deelt verguld mee dat het woordenboek
dit jaar wéér een stuk dunner is geworden.
In 1984 kramen burgers oppervlakkige nonsens uit
in een nieuw vormgegeven idioom: Newspeak.
Het is een extreem gecomprimeerde vorm van taal,
waarin alle woorden die een negatieve werking voor het regime
zouden kunnen hebben, zijn geschrapt,
of een andere betekenis hebben gekregen.
Het onder woorden brengen van 'onjuiste meningen'
wordt bij voorbaat onmogelijk gemaakt.
In Orwells wereldorde heerst een enorme nadruk op fake optimism,
en patriottisme en uniformiteit.
De beleving van de identieke burgers is dubbleplusgood.
–
Ik begrijp waarom mensen het boek van Orwell nu lezen.
Meer nog dan 1984 omschrijft hij de tijdgeestverschijnselen
van 2018 waarin sociale netwerken ons ertoe bewegen
elkaar te prijzen met duimen en hartjes.
Waar het discour rondom moeilijke onderwerpen
zo voorzichtig óf gepolariseerd is geworden,
dat een emoticon eenvoudiger uitkomst biedt.
Woorden schieten te kort en als je ze hebt gevonden,
dan is het maar de vraag of je ze wel mag uitspreken,
mag adresseren…
Ik las iets opmerkelijks in dit licht, namelijk dat een sommelier
gemiddeld twee keer meer proeft dan een normale sterveling.
Dat komt niet door een mythische tong, of doordat alcohol
je smaakpapillen activeert. (ik durf het tegendeel te bewijzen).
Het komt omdat een sommelier een rijk vocabulaire heeft
om smaak in uit te drukken.
Een wijnkenner durft, zonder enige schroom
een wijn 'stro-achtig' te noemen, of  'als de binnenkant van een tuinslang'.
Een wijn kan rozig, lobbig, schertsend of stram zijn.
Smaken die we nooit geproefd hebben: – op stram kun je niet kauwen
en niemand likt aan de binnenkant van een tuinslang,
en toch weet je hoe het smaakt.
Sterker nog: als het woord dat je zoekt niet bestaat,
dan verzin je het gewoon.
Zo zei een kelner me laatst dat de wijn een stallige afdronk had.
Ik heb het opgezocht: stallig bestaat niet.
Maar toch smaakte het naar een stal.
Hij bedacht een term om de complexiteit en levendigheid op
een zo nauwkeurig mogelijke wijze uitdrukking te geven.
Levenswerk II – het kunstwerk van Margiet Luyten
dat ons hier brengt vandaag- toont meesters
in het uitdrukken van dit soort nuances.
Pioniers die het onbekende, het speculatieve en
het onontgonnene (dat woord bestaat ook niet) hebben omarmd
en tot grote hoogten brachten.
Ze vertolken als meester- sommeliers de stillevens,
sculpturen en conceptuele constructen naar het grote publiek.
Allemaal op een andere manier.
Allemaal ruilden ze een leeuwendeel van hun leven in
voor confrontaties met het rare, het schijnbaar onbegrijpelijke,
het nog niet bedachte maar wel gemaakte.
Flor Bex maakte meer dan 700 tentoonstellingen.
Dat is 700 keer je tot iets nieuws verhouden.
Misschien wel 700 keer de kick voelen, van iets dat op z'n plek valt.
Maar ook minstens even vaak de frustratie toelaten
omdat je de woorden nog niet gevonden hebt.
Ondanks dat de meningen, methodes, gebroken lansen
en dogma's van de kunstbemiddelaars in Levenswerk II verschillen
komen er twee zaken overeen.
1. Het is jammer dat er tegenwoordig zoveel geld
gemoeid gaat met kunst, want geld houdt nou eenmaal niet
van het speculaties en onzekerheid.
2. de huidige tijdgeest is een chaotische, een pluriforme, eentje die
van alles een beetje doet, surft over een weelderig oppervlakte.
In een samenleving waar onder invloed van mondiale stromen
een hernieuwde behoefte aan nationalisme is ontstaan
(denk aan Brexit, of het verplicht aanleren van ons volkslied)
biedt het oerwoud van de huidige tijdgeest mij juist hoop en moed.
Meer dan de kunstgeschiedenis.
Die gaat over dominantie, arrogantie en individualisme.
Het toont aan wie er praatte en wie luisterde.
Kunstgeschiedenis leerde me dat ik, net als alle andere vrouwen,
er geen in plaats heb.
Vrouwen hadden geen tijd om na te denken, te maken,
of te bemiddelen, want ze waren veel te druk bezig naakt
een dutje te doen in het bos.
Op een kleed, tussen twee mannen in pak.
Liesbeth Brand Corstius verbaasde zich hier in 1975 al over
en deed een oproep aan kunstenaressen.
Ze kreeg 2000 brieven terug.
Deze vrouwen waren niet naakt in het bos, maar stonden paraat
toen de geschikte bemiddelaar zich aandiende.
Toen ik afstudeerde werd de WWIK afgeschaft voor kunstenaars.
Enkele jaren later was kunst een nationale, linkse hobby.
Mister Motley, het magazine waar mijn sparren in de ring écht begon
onder de vleugels van bemiddelaar Hanne Hagenaars,
mocht niet langer doorgaan op papier.
Meer dan 20 toonaangevende instituten
sloten de deuren voorgoed in Nederland.
We konden onszelf niet verdedigen, want onze woorden lagen
in de nuance, in de binnenkant van die tuinslang, niet op onze tong.
Woorden waren, net als in 1984 een mijnenveld geworden,
de burger bang om te spreken, om een onjuiste, schadelijke mening
te verkondigen.
De taal moest nog gemaakt worden.
De bemiddelaars uit Levenswerk II rijgen de schakels tussen kunst
en tijdgeest aaneen.
De tijdgeest die zich herhaalt, wentelt en steeds bij het omkijken
een ander gezicht trekt.
Lily van Ginneken zegt in de film: "Elke tijd heeft z'n eigen beelden
en verbeeldingen. Op een gegeven moment denk je
'O, daar weet ik niet veel van' of 'die wereld die ken ik niet'. (…)
Ik probeer een hoop dingen te zien, maar ik weet ook
dat er een hoop dingen gebeuren die ik niet zie. En dat spijt me zeer."
Ik voel die spijt ook vaak.
Er is ook zóveel en de wereld wordt gevoelsmatig kleiner
en bereikbaarder en drukker en abstracter.
Het heeft volgens mij niet alleen met ouder worden te maken.
Ik ervaar de veelheid vaak als een knock-out
die ik dan probeer te herstellen, door als een bezetene te exploreren
en te studeren, en hup met trillende knieën weer terug de ring in.
Een bemiddelaar is hard nodig in deze tijd van bubbels en emoticons.
Een bemiddelaar die uitvindt, niet alleen nieuwe woorden,
maar ook misschien nieuwe tempels naast musea, kranten en beurzen.
En tevens de huidige beschermt met hand en tand en lans en vuist.
We hebben daar een hoop nieuwe mensen bij nodig, die passen
bij de geglobaliseerde en abstracte wereld van vandaag.
Ik geloof heel sterk dat de deze tijd verlangt naar niet één narratief,
niet één held, niet één bemiddelaar, niet jong óf gearriveerd
maar een rijke schakering aan makers, denkers, verzamelaars
en 'mogelijk- makers' – die samenwerken en
een nieuw idioom de kunstwereld in slingeren.
Tot voor het lezen en kijken van Levenswerk II dacht ik dat
de bemiddelaar het tragisch lot van de afhankelijkheid was beschoren.
Een kunstenaar kan doorgaan tot zijn dood, dat bewijst
Levenswerk I en Levenswerk III, dat nog gemaakt gaat worden
en in het teken staat van de verzamelaar, illustreert wellicht
dat verzamelen een van mens' oudste gedragingen is.
Dat een collectie voortleeft tot ver na een stoffelijk bestaan.
Een bemiddelaar kan alleen bemiddelen wanneer hij
een podium krijgt geboden, anders valt er niets te beslechten.
En toch klopt dit maar ten dele.
Nog meer dan tussen kunstwerk en publiek
onderhandelt een bemiddelaar voornamelijk met de tijdgeest.
De rijke perspectieven en de melancholie in Levenswerk II
gaven mij, meer nog dan de krant van vandaag of een Tweet,
een haarscherpe analyse van het nu.
Misschien onbedoeld, maar ik vind het dubbelplusgood.'
Heske ten Cate
zie: On speaking terms met Heske ten Cate
zie NEST, ruimte voor kunst
zie: Margriet Luyten
zie: Levenswerk(II)
De tentoonstelling
"Margriet Luyten & de kunstbemiddelaars"
in de kunstruimte
van De Nederlandsche Bank
is nog te zien t/m 20 september 2018
zie: Margriet Luyten & de kunstbemiddelaars.