Symposium NIETZSCHES PLAATSEN op 6 maart 2012:
Symposium, n.a.v. de expositie:
Strömung
tekeningen & ruimtelijke werken van
Marjolijn van den Assem
in de Radboud Universiteit Nijmegen
Programma
Er zijn 5 voordrachten, waarna steeds een korte tijd voor vragen. De voordrachten van Isabelle Wienand en van Herman Siemens & Katia Hay zijn in het Engels, de overige in het Nederlands. Aan het eind van het programma vindt een korte dubbele boek-presentatie plaats. De boeken zijn ter plekke verkrijgbaar.
13.30    opening
13.45     Paul van Tongeren (Nijmegen/Leuven):
Nietzsche: denken en (ver)plaatsen; filosofie en kunst
14.15    uitreiking penning ter nagedachtenis aan dr. Gerd Schank
14.30    Isabelle Wienand (Basel/Lausanne),
Nietzsche in Basel
15.00    Herman Siemens (Leiden) & Katia Hay (Paris)
Nietzsche's Gay Science: On seriousness and laughter
15.30   Martine Prange (Leiden)
Nietzsche in Italië
16.00    Daan van Speybroeck (Nijmegen) in gesprek met Marjolijn van den Assem (Rotterdam)
Nietzsche schrijven
16.30    Gerard Visser (Leiden) & Paul van Tongeren
presenteren hun zojuist verschenen boeken over Nietzsche
16.45    gelegenheid om de expositie (nog eens) te bekijken en een glas te drinken
Het symposium Nietzsches plaatsen vindt plaats in de aula van de Radboud Universiteit Nijmegen. Adres: Comeniuslaan 2, 6525 HP Nijmegen. Er is een zeer frequente busverbinding (elke 10 minuten) tussen het NS-station en de campus (halte 'bestuursgebouw'). Er is mogelijkheid tot (betaald) parkeren vlakbij de aula. Voor nadere info over de bereikbaarheid, zie: http://www.ru.nl/facilitairbedrijf/accommodaties/aula/vm/bereikbaarheid_aula/
Vanwege het grote aantal aanmeldingen is het symposium verplaatst naar de grote zaal (Academiezaal) in de Aula. Als u het gebouw binnenkomt, vindt u links een garderobe. De academiezaal vindt u bovenaan de grote trap, rechts.
Wie tevoren wil lunchen of koffiedrinken kan terecht in de universitaire kantine ("De Refter", Erasmusplein 3), resp. het Cultuurcafé (schuin tegenover "De Refter"); beide zijn op 7 minuten loopafstand van de aula. In de aula is een koffie-automaat.
Werken van Marjolijn van den Assem zijn geëxposeerd op twee plaatsen; beide zijn vrij toegankelijk, ook na afloop van het symposium: (1) in de Universiteitsbibliotheek (ingang: Erasmuslaan 36; ca 7 minuten lopen vanaf de aula): als u de bibliotheek binnenkomt, gaat u – via de poortjes – de trap op. Op de eerste verdieping ziet u de geëxposeerde werken; (2) in de Aula, op de rondgang rond de trap op de eerste etage.
zie: SEELENBRIEFE: Nietzsche Dokumentationszentrum Naumburg(8)
zie: Radboud Universiteit Nijmegen(3)
zie: Symposium Nietzsches plaatsen(1)
Besproken in FILOSOFIE MAGAZINE, maart 2012, door Jeroen Hopster: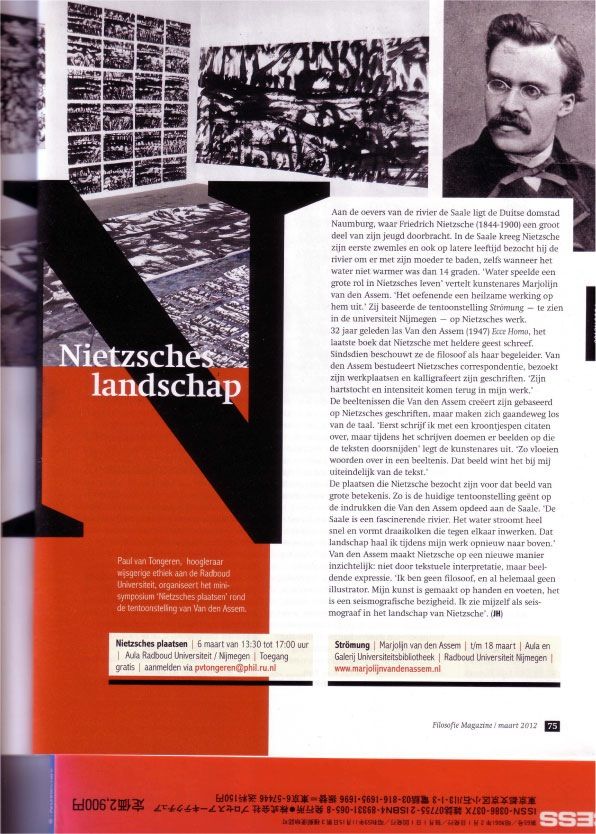 zie: Aankoop(2)