'in the closet' van Ilja & Emilia Kabakov,
is als een uitgesneden deurtje
in een schoenendoos;
achter de blauwe museumwand
een schuilplaats,
te kijk.
Daarbij de handgeschreven tekst:
'Toen ik een kind was, had ik de gewoonte
om gedurende lange tijd in de kast te zitten
waar niemand me zou storen, en ik was op de hoogte
van alles wat er in de kamer gebeurde
door de geluiden die door de wanden van de kast drongen.
Er is vader die thuis gekomen was van zijn werk,
hij wast zijn handen, verschuift de stoel,
grijpt een lepel vast en eet alles snel op,
terwijl hij met zijn lepel over de bodem van zijn bord
schraapt. De buren zijn bij mijn moeder op bezoek,
ze hebben het over school en mijn gedrag,
niet beseffend dat ik me vlakbij bevind
en met genoegen luister naar wat anderen
over mij te vertellen hebben. Na verloop van tijd
slaagde ik er in om met behulp van oude kleren
iets wat op een tent leek te bouwen, ik sloot de electriciteit aan,
schikte mijn favoriete boeken op de plank
en ik las zo lang ik maar wilde, zonder te merken
of het dag of nacht was. Niemand kon me ervan weerhouden
verzen te bestuderen, te lezen of gewoonweg te dromen.
Na een lange oorlog, ruzies en tranen
lieten familieleden me met rust.'
Ilya & Emilia Kabakov 1998
zie: 'in the closet' collection M HKA Antwerpen

Ilya & Emilia Kabakov 'in the closet' 1998
collection M HKA Antwerpen / collection Vlaamse Gemeenschap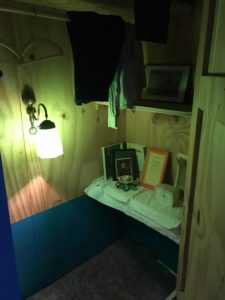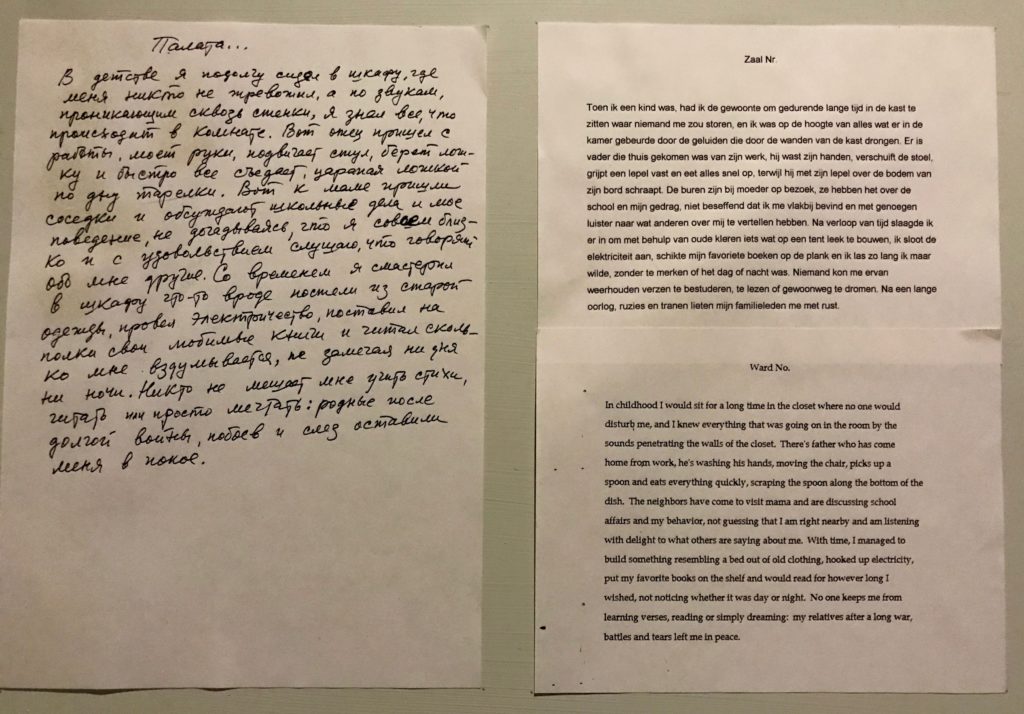 Mijn eerste atelier was in een kast onder de trap.
Veilig omsloten, tijdloos, plaatsloos.
Het werk 'in the closet' van Ilya & Emilia Kabakov,
een diep blauwe wand in het M HKA Antwerpen,
met daarin een nu openstaande deur
naar een wereld op zich,
riep me terug.