Das Bewußtsein vom Scheine
Wie wundervoll und neu und zugleich wie schauerlich und ironisch
fühle ich mich mit meiner Erkenntnis zum gesamten Dasein gestellt!
Ich habe für mich entdeckt, daß die alte Mensch- und Tierheit,
ja die gesamte Urzeit und Vergangenheit alles empfindenden Seins
in mir fortdichtet, fortliebt, forthaßt, fortschließt
– ich bin plötzlich mitten in diesem Traum erwacht,
aber nur zum Bewußtsein, daß ich eben träume
und daß ich weiterträumen muß, um nicht zugrunde zu gehn:
wie der Nachtwandler weiterträumen muß, um nicht hinabzustürzen.
Was ist mir jetzt »Schein«!
Wahrlich nicht der Gegensatz irgendeines Wesens
– was weiß ich von irgendwelchem Wesen auszusagen,
als eben nur die Prädikate seines Scheins!
Wahrlich nicht eine tote Maske, die man einem unbekannten X
aufsetzen und auch wohl abnehmen könnte!
Schein ist für mich das Wirkende und Lebende selber,
das so weit in seiner Selbstverspottung geht, mich fühlen zu lassen,
daß hier Schein und Irrlicht und Geistertanz und nichts mehr ist
– daß unter allen diesen Träumenden auch ich, der »Erkennende«,
meinen Tanz tanze, daß der Erkennende ein Mittel ist,
den irdischen Tanz in die Länge zu ziehn,
und insofern zu den Festordnern des Daseins gehört,
und daß die erhabene Konsequenz und Verbundenheit
aller Erkenntnisse vielleicht das höchste Mittel ist
und sein wird, die Allgemeinheit der Träumerei
und die Allverständlichkeit aller dieser Träumenden
untereinander und eben damit
die Dauer des Traumes aufrechtzuerhalten.


La galleria di Ruta lungo 'Aurelia'
in una fotografia di fine Ottocento
e inizio Novecento
In Ruta bij Genua schreef Nietzsche
in de herfst van 1886
een nieuw voorwoord bij 'de vrolijke wetenschap',
dat hij in 1882 in Genua schreef.
'Het bewustzijn van de schijn'  (vertaling Pé Hawinkels 1976)
uit 'de vrolijke wetenschap',
wordt in de nieuwste vertaling:
Het besef van de schijn (54)
Hoe prachtig en nieuw, en tegelijker­tijd hoe gruwelijk en ironisch voel ik me door mijn kennis tegenover het hele bestaan!
Ik heb voor mezelf ontdekt dat de oude mens- en dierheid, sterker,
de complete oertijd en het hele verleden van al wat kan ervaren,
in mij voortdicht, voortbemint, voorthaat, voortconcludeert,
– ik ben ineens midden in deze droom wakker geworden,
maar alleen om te beseffen dat ik aan het dromen ben
en dat ik voortdromen moet om niet te gronde te gaan:
zo­als de slaapwandelaar voortdromen moet
om niet van de rand te vallen.
Wat is tegenwoordig 'schijn' voor mij!
Beslist niet het tegendeel van een of ander wezen –
wat weet ik over een of ander wezen te vertellen,
behalve wat de predicaten zijn van zijn schijn!
Beslist niet een dood masker dat je een onbekende X
zou kunnen opzetten en ook weer afnemen!
Schijn is voor mij het werkende en levende zelf,
dat in zijn zelfbespotting zo ver gaat dat het me laat voelen
dat hier schijn en dwaallicht en spokendans heersen
en verder niets – dat onder al deze dromenden ook ik,
'de kennende', mijn dans dans,
dat de kennende een middel is om de aardse dans
te rekken en in zoverre tot de ceremoniemeesters
van het bestaan behoort, en dat de verheven consequentie
en samenhang van alle kennis misschien het hoogste middel is,
en zijn zal, om de algemeenheid van de dromerij
en het onderlinge begrip van al deze dromenden
en juist daardoor
de duurzaamheid van de droom in stand te houden.
De vrolijke wetenschap.
Friedrich Nietzsche 1882
Nieuw voorwoord door Nietzsche destijds
ondertekend met
'Ruta bij Genua, herfst 1886'
Opnieuw verschenen in 2018 bij Uitgeverij Vantilt Nijmegen
vertaald door Hans Driessen
met een nawoord van Paul van Tongeren
Het geeft zóveel stof tot nadenken
om de vertalingen met elkaar te vergelijken!
The Consciousness of Appearance
How wonderfully and novelly, and at the same time how awfully
and ironically, do I feel myself situated with respec
t to collective existence, with my knowledge!
I have discovered for myself that the old humanity and animality,
yea, the collective primeval age, and the past
of all sentient being, continues to meditate, love, hate, and reason
in me, – I have suddenly awoke in the midst of this dream,
but merely to the consciousness that I just dream,
and that I must dream on in order not to perish;
just as the sleep-walker must dream on in order not to tumble down.
What is it that is now "appearance" to me!
Verily, not the antithesis of any kind of essence,
– what knowledge can I assert of any kind of essence whatsoever,
except merely the predicates of its appearance!
Verily not a dead mask which one could put upon an unknown X,
and which to be sure one could also remove!
Appearance is for me the operating and living thing itself;
which goes so far in its self-mockery as to make me feel
that here there is appearance, and Will o' the Wisp,
and spirit-dance, and nothing more, – that among all these dreamers,
I also, the "thinker," dance my dance, that the thinker is
a means of prolonging further the terrestrial dance,
and in so far is one of the masters of ceremony of existence,
and that the sublime consistency and connectedness
of all branches of knowledge is perhaps, and will perhaps,
be the best means for maintaining the universality of the dreaming,
the complete, mutual understandability of all those dreamers,
and thereby the duration of the dream.
translated by Thomas Common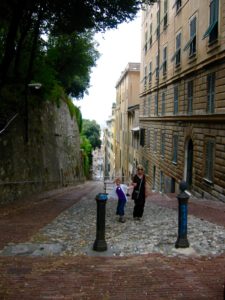 SALITA delle BATTISTINE 8
(interno 6), Genua, vlak bij
het Villetta di Negro.
Nietzsche hield van Genua,
hij was er sinds 1876 zeker vijf keer
en verbleef er graag de hele winter.
zie: Sanctus Januarius!
zie: Genua citaten
zie: il faut méditerraniser(3)
zie: Domaine indéfinissable(1)
zie: bewustzijn van schijn(8)
zie: bewustzijn van schijn(7)
zie: bewustzijn van schijn(6)
zie: bewustzijn van schijn(5)
zie: bewustzijn van schijn(4)
zie: bewustzijn van schijn(3)
zie: bewustzijn van schijn(2)
zie: een nieuwe vrolijke wetenschap! (Stephan Peters)