Florette Dijkstra, tekenaar en schrijfster,
heeft op beide gebieden
mijn bewondering en sympathie gewekt.
Tijdens de intensieve samenwerking
voor de KetelFactory Schiedam,
bewees zich onze vriendschap
en onze verwantschap
… én kreeg ik onderstaande leporello.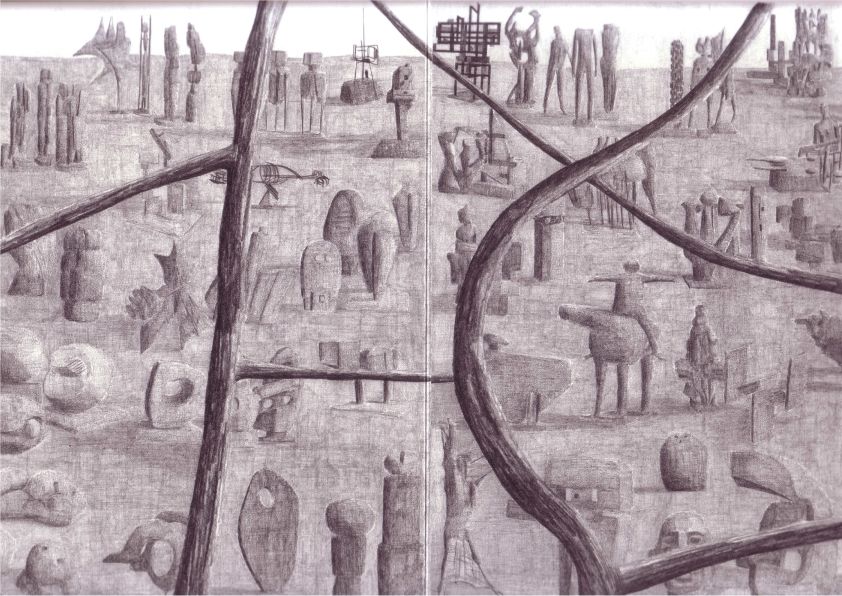 Modern sculpture (detail),
a concise history,
Florette Dijkstra 2009
This leporello is the printed version
of a 5 meters long pencil drawing,
that is inspired by Modern Sculpture,
a concise history,
written by Herbert Read in 1964.
zie: ziele-spelen: Artaud
zie: KetelFactory: Ontmoeting 3#
zie: De Distillatie

NIEUW!
Florette Dijkstra. De onvoltooide
Querido 's Uitgeverij Amsterdam – Antwerpen 2010
"In een land dat de roman nauwelijks anders waardeert dan
als een aangenaam tijdverdrijf, mist men van nature het begrip
voor de weinigen die waarlijk leven op papier,
die gedreven worden om te schrijven, aangezien alleen
in het gevecht om het woord
het gevecht om de laatste levenswaarden kan worden beslist."
Uit: De onvoltooide, van Florette Dijkstra.
"Ze schreef op leven en dood over mensen die
op een punt kwamen waarop de dood in het leven trad.
En omdat ze zo direct vanuit het hart schreef
ontbrak alle afstand, waardoor diezelfde personages
puur gedachtestromingen en gevoelens representeerden,
en dat dan binnen de huid van zo'n boek."
Uit: De onvoltooide, van Florette Dijkstra.
"Daarachter was van alles gaande:
zaken die ze in een gesprek niet naderen konden,
die hen ontglipten doordat de woorden
zoveel aandacht trokken, nog voordat andere zintuigen
de kans kregen om de wereld achter de taal binnen te gaan."
Uit: De onvoltooide, van Florette Dijkstra.
Ook van Florette Dijkstra:
De vrouw van verf (roman 2004)
Uitgeverij Querido
zie: Present from a friend (1) zie: Present from a friend (2)
zie: Present from a friend (3) zie: Present from a friend (4)
zie: Present from a friend (5) zie: Present from a friend (6)
zie: Present from a friend (7) zie: Present from a friend (8)
zie: Present from a friend (9) zie: Present from a friend(10)
zie: present from a friend(11) zie: Present from a friend(12)
zie: Present from a friend(13) zie: Present from a friend(14)
zie: Present from a friend(15) zie: Present from a friend(16)
zie: Present from a friend(17) zie: Present from a friend(18)
zie: Present from a friend(19) zie: Present from a friend(20)
zie: Present from a friend(21) zie: Present from a friend(22)
zie: Present from a friend(23) zie: Present from a friend(24)
zie: Present from a friend(25) zie: Present from a friend(26)
zie: Present from a friend(26)