Water running down from "la Terrasse Nietzsche"
at the Mont Boron, Nice, France 2009.
Vanaf la Terrasse Nietzsche, hoog op de Mont Boron,
aan de baai die de Méditerranée omarmt,
kijk je in de oranje stad en de tijd.
Visiting Nietzsche's Terrace again at the Mount Boron in Nice,
from where water is flowing down,
I noticed a poster showing the creation of this waterfall:
"la creation de la cascade" in 1885, when Nietzsche
spent the wintertimes in Nice and vicinity:
"Es war mir sehr werthvoll, fast gleichzeitig
die Luft von Leipzig München Florenz Genua und Nizza
zu experimentiren.
Ihr könnt gar nicht glauben, wie sehr bei diesem Wettkampfe
Nizza triumphirt hat"
9 November 1885, Sämtliche Briefe, Friedrich Nietzsche.
"Von Genua bis Nizza fährt man präcise 5 Stunden
(7 Uhr Morgens ab, Ankunft um 12)"
10 November 1885, Sämtliche Briefe, Friedrich Nietzsche.
An Köselitz:
Dieser Tage erquickte es mich zu erfahren, dass diese Stadt,
welche ich nicht mehr wechseln und eintauschen darf,
in ihrem Namen etwas vom Siege hat. (…)
Die Luft ist unvergleichbar, die anregende Kraft
(ebenso die Lichtfülle des Himmels) in Europa
nicht zum zweiten Male vorhanden.
Ich erwähne endlich, dass man hier billig,
sehr billig leben kann, und dass der Ort umfänglich genug ist,
um jeden Grad einsiedlerischer Verborgenheit zu gestatten.
Die ganz ausgesuchten Dinge der Natur, wie die Waldwegen
am nächsten Berge, wie die Halbinsel Saint-Jean,
hat unsereins für sich; ebenso ist die ganze herrlich-freie Promenade
am stark brandenden Meere (ca. dreiviertel Stunde lang-)
nur für ein paar Stunden des Tages besucht"
24 November 1885, Sämtliche Briefe, Friedrich Nietzsche.
Friedrich Nietzsche, Chronik in Bildern und Texten, Stiftung Weimarer Klassik bei Hanser, zusammengestellt von Raymond J. Benders.
zie: Cornucopia
zie: cascata d'acqua
zie: Genova on my mind…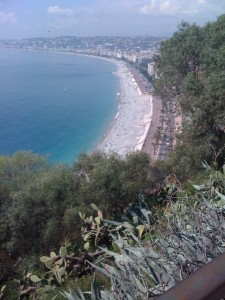 Overview on the Promenade des Anglais, Nice,
from "Nietzsche's Terrace" on The Mount Boron (2009)
zie: Il faut méditerraniser
zie: Splash!
zie: Parallel Falls