Deelnemende kunstenaars aan de tentoonstelling
SNAPSHOT OF A LARGER ORDER
van 16 april tot 17 juli 2016
in de Noletloodsen* bij de Ketelfactory Schiedam:
Hans van Bentem, Maria Blaisse,
Florette Dijkstra, Wineke Gartz, Harry Haarsma,
Bernadet ten Hove, Claudy Jongstra, Kinke Kooi,
Mirjam Kuitenbrouwer, Ton van der Laaken,
Birthe Leemeijer, Jan van Munster, Olphaert den Otter,
Karin van Pinxteren, Ewoud van Rijn,
Roland Schimmel, Winnie Teschmacher,
Simon van Til, Robert Zandvliet, Marjolijn van den Assem
zie: de Ketelfactory
zie: snapshotschiedam.nl

boven: maquette van mijn toekomstig paviljoen
-ontwerp Victor Veldhuijzen van Zanten-
in één van de Noletloodsen van
Snapshot of a larger order
Mijn voorstel voor de presentatie van mijn werk
in de tentoonstelling "Snapshot of a larger order":
Sinds de afronding van een zeven jaar durende
beeldende zoektocht naar de denkweg
van Friedrich Nietzsche achter "de taal van de dooiwind",
afgesloten met een gelijknamig boek, heb ik mij gestort
op een brief van de door Nietzsche bewonderde
dichter Friedrich Hölderlin(1770-1843).
Mijn werk gaat over denkbeeldige en daadwerkelijke reizen,
vaak in Nietzsche's voetspoor, van het Noorden
naar het Zuiden en omgekeerd, die de overeenkomsten
én de verschillen toetsen van "een oord".
Een door mij geselecteerde brief van Hölderlin
beschrijft het veranderende en toch gelijk blijvende
landschap tijdens een dramatische voettocht
van het Zuiden naar het Noorden
en daarbij zijn "woelingen van de ziel".
Hölderlin schildert met woorden
"het licht in al zijn de schakeringen"
en het "samenvallen" van verschillen in de natuur.
Hij eindigt deze brief aan een goede vriend
met de noodkreet om hem snel terug te schrijven,
hij heeft "zuivere tonen nodig".
Door het honderden keren bedachtzaam
en met kroontjespen overschrijven van dezelfde brief,
tast ik beweegredenen af, schrijf ik met de schrijver.
Bijna buiten mij om heeft zich bij de 325-ste
overschrijving van Hölderlin's brief, de zin:
"er is iets ongestilds, iets onstilbaars in mij,
dat zich wil laten horen",
tussen de briefregels van Hölderlin ingewrongen.
Nietzsche schreef deze woorden met zijn laatste krachten,
ik schrijf het hem na,
het is in mijn ogen de essentie van het kunstenaarschap.
Meerdere Nietzsche-citaten zijn gevolgd,
die het hart van Hölderlins brief hebben verdrongen.
Ingebed in Hölderlins aanhef en zijn oproep
tot terugschrijven (1802),
komt Nietzsches beginselverklaring (1888)
door mijn seismografisch handschrift (2015)
in deze serie tot leven.
Omdat Nietzsche schatplichtiger zou kunnen zijn
aan Hölderlin dan gedacht, werd ik door
de enorme afmetingen van de tentoonstellingsruimte
in de Nolet-loodsen uitgedaagd om
een zeer groot werk te maken om deze wisselwerking
en mijn standpunt daarin, beeldend te verduidelijken.
Vaak blijken overgeschreven teksten
later de drager van mijn tekeningen te zijn.
Uit 300 geschreven tekeningen "lettre/Brief/letter/brief ",
die samen één werk vormen, is inmiddels
de tekeningen-serie "brevis libellus" voortgekomen.
Met het recente werk is een volgende fase aangebroken,
die in de tentoonstelling van de Ketelfactory
"Snapshot of a larger order"
de première zal gaan beleven.
zie: atelier, november 2015 (on Vimeo)
zie: Snapshot of a larger order(2)
zie: Snapshot of a larger order(1)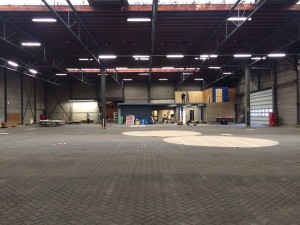 * één van de twee Noletloodsen
van de Ketelfactory ,
voor de tentoonstelling:
Snapshot of a larger order
Buitenhavenweg 34, Schiedam
di t/m zo 11 – 17 uur
www.snapshotschiedam.nl
www.deketelfactory.nl