"In the Mirror of Possibilities".
Maria Lassnig (1919 – 2014, Kappel am Krappfeld, Austria).
Watercolours and Drawings from 1947 to the Present.
Museum Ludwig, Köln, Germany.
"The drawing is closest to the idea.
The drawing is closest to the moment.
Each moment has only one possibility"
Maria Lassnig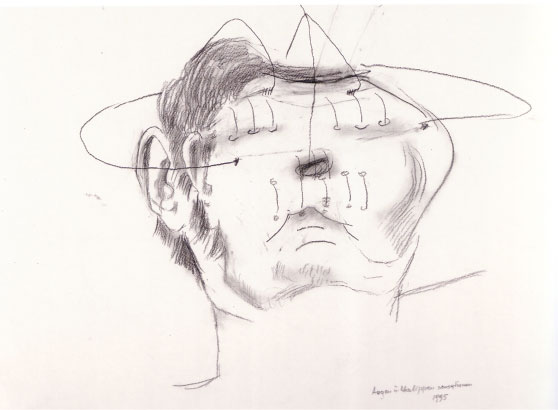 Eye and Upper Lip Sensations 1995 pencil on paper
43,9 x 60cm
Maria Lassnig
Text about Maria Lassnig at the exhibition
at Museum Ludwig, Köln,
that impressed me so much:
Maria Lassnig has drawn and painted for over 60 years.
Her trademark is the "Body Awareness Drawings".
She draws, as she says, "not the body as "object",
but the feelings from her body".
In these drawings Lassnigs questions her bodily sensations,
the physiological underpinnings of her own existence.
Paper acts for her as a corrective,
as a mirror of herself, today just as it did 60 years ago.
She mirrors the possibility of selfpresentation- sometimes seriously,
sometimes wittily.
Her inscapes and outscapes allow the viewer to come close up
and still maintain a distance.
Gran in the garden 2008 pencil/gouache,
acrylic on paper 50 x 70cm
Maria Lassnig
zie: Charley