zie: de taal van de dooiwind/ Seelenbriefe/ Sgelare
zie: Trouw
zie: SEELENBRIEFE,
tentoonstelling in Nietzsche Dokumentationszentrum
Naumburg(Saale)(D.)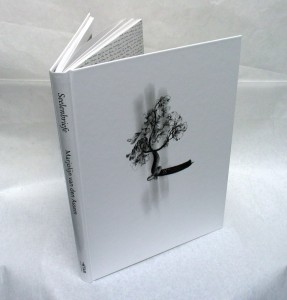 De uitgever van mijn Seelenbriefe-boek is
HANS TIMMER van Uitgeverij TAB,
Timmer Art Books uit Oosterhout.
Achter deze mededeling gaat een geheim schuil,
Hans Timmer is namelijk héél goed.
Het tot stand komen van het boek Seelenbriefe in 2007
was een indringend proces dat een half jaar in beslag nam,
het was de afronding van het totale Seelenbriefe-project
waaraan ik zeven jaar werkte.
Hans Timmer volgde mijn werk al jaren.
In 2006 gaf hij, ter aankondiging van het boek dat zou volgen,
een Seelenbriefe-mapje met 11 fotokaarten uit.
Vanaf het moment dat we besloten dat op 15 april 2008
het Seelenbriefe-boek zou worden gepresenteerd
ontstond een intensieve samenwerking.
Uit eindeloze gesprekken vloeide de opzet voort voor de vormgeving,
we maakten een financieel plan en een planning
voor de selectie van werken, de fotografie ( Tom Haartsen ),
de tekstbrieven en de vertalingen.
Natuurlijk werd alles regelmatig doorkruisd
door voortschrijdend inzicht en tegenslag,
maar nooit lieten we ons uit het veld slaan
of werd de vriendschappelijke sfeer in gevaar gebracht.
Hans Timmer verzette bergen om de kwaliteit te handhaven.
Veel tekeningen scande hij of fotografeerde ze telkens
bij ànder licht om de juiste toon te kunnen vangen.
Als vormgever was Hans terughoudend gedecideerd
maar nooit dominant, steeds kwamen we in goed overleg
tot een conclusie.
Het was een spannend en uitputtend maar tegelijkertijd
verslavend proces,
met als resultaat een boek waarop we trots zijn.