There were overwhelming speeches,
by Dr. Ralf Eichberg,
by the former Oberbürgermeister
& Justizminister von Sachsen-Anhalt,
Curt Becker
and by prof. dr. Paul van Tongeren,
at the opening of the SEELENBRIEFE exhibition
at the Nietzsche Dokumentationszentrum Naumburg
and flowers, lots of visitors, home-cooked-food by Rafaël!
zie: Going back!
Many thanks to The Nietzsche Documentation Center in Naumburg!
Seelenbriefe exhibition:
Video(0:39): exhibition (basement)
Video(1:26): exhibition (ground floor)
Video(1:51):  exhibition (first floor)
DANKESWORT:
Vor genau 32 Jahren habe ich Ecce Homo zum ersten Mal gelesen
und seitdem ist Friedrich Nietzsche mein ständiger Begleiter.
Das Lesen und Abschreiben seiner Texte,
das Studium seiner Korrespondenz,
der Besuch seiner Wirkungsstätten und
die Deutung seiner Arbeit
durch andere ist für mich meine Art zu leben geworden.
Mein künstlerisches Schaffen baut
zu einem wesentlichen Teil darauf auf.
Die Arbeit auf Händen und Füßen,
sodass meine Handschrift seismografisch wiedergeben kann,
was in mir vorgeht, ist meine Form von Nietzsches
"incorporare" / "Einverleiben", sich dem Hier
und Jetzt hinzugeben, soweit es eben geht.
Und so gilt mein größter Dank Nietzsche als Tanzpartner.
Vor zwanzig Jahren besuchte ich Naumburg zum ersten Mal
und stand vor einem trostlosen,
heruntergekommenen Haus im Weingarten 18.
Ein Zettel hing an der Tür – in einer Plastikhülle verpackt –
und darauf eine Adresse in Halle, wo gerade
die Nietzsche-Gesellschaft gegründet worden war.
An diese Adresse schrieb ich meine tief empfundene Sympathie
für die Initiative, die allen Widrigkeiten zum Trotz überlebte.
Zum Dank wurde ich twanzig Jahre lang über alles,
was die Nietzsche-Gesellschaft betraf, auf dem Laufenden gehalten
und fühlte mich so in gewisser Weise
in die Geschehnisse eingebunden.
Als deutlich wurde, dass Dr. Ralf Eichberg im Begriff war,
ein großartiges, modernes Nietzsche-Dokumentationszentrum
in Naumburg auf die Beine zu stellen, wurde ich
zu einer bescheidenen Stifterin und schickte ihm
mein 2007 erschienenes Buch Seelenbriefe
für die dortige Bibliothek.
Vor genau einem Jahr, ich spazierte gerade durch Sils-Maria,
erreichte mich eine SMS von Paul van Tongeren,
der mir mitteilte, dass Ralf Eichberg mich einlud,
im mittlerweile fertig gestellten Dokumentationszentrum
eine Ausstellung einzurichten.
Es folgte ein kleiner Freudentanz…
und kurz darauf, wieder zu Hause in meinem Atelier,
nahm ich – die Raumwirkung
des Nietzsche Dokumentationszentrums im Hinterkopf –
die Arbeit zu meiner zehn Meter langen
Travelogue(1) Zeichnung auf.
Und diese Zeichnung ist nun tatsächlich hier im Kellergeschoss
des Dokumentationszentrums zu sehen!
Sie ist ein Bild-Protokoll meiner Erkundungen
auf den Spuren Nietzsches in der Umgebung von Sils-Maria.
So wie Travelogue(4) ein Bericht meiner Nachwanderung
von Nietzsches Streifzügen in Genuas centro storico ist.
Die Person hinter der Nietzsche-Gesellschaft
blieb mir übrigens lange Zeit unbekannt,
bis wir uns im vergangenen Monat kennenlernten
und mir allmählich klar wurde, dass mein
vor zwanzig Jahren abgeschickter Brief nach Halle
schlussendlich zu dieser Ausstellung geführt hat.
Ich Danke Ralf Eichberg aus tiefstem Herzen
für die Gastfreundschaft, die meine Arbeiten nun hier genießen,
aber auch für den Berg, den er seit nunmehr zwei Jahrzehnten
mit seiner Nietzsche-Gesellschaft bewältigt,
so wie er auch die Leiter bei der Einrichtung der Ausstellung
hinaufstieg, um eigenhändig, in gut sechseinhalb Metern Höhe
mein Travelogue(4) an die Wand zu bringen.
Den Leiter der Nietzsche Research Group Nijmegen
Paul van Tongeren bewundere ich für seine Bücher.
In den Seelenbriefen schrieb er über
die Unmöglichkeit der Gleichzeitigkeit im Briefeschreiben.
Und obwohl Paul van Tongeren mich auf das ewige Paradoxon
zwischen Philosophie und Kunst hinwies,
sorgte gerade dieses Paradoxon dafür,
dass er (der Denkkünstler) und ich (die Bildkünstlerin)
uns in Nietzsche gefunden haben.
Nun möchte ich ihm meinen herzlichen Dank
dafür aussprechen, dass er sich bereit erklärt hat,
diese Ausstellung zu eröffnen.
Jisca Bijlsma, Direktorin des Chabot Museums in Rotterdam
und Kuratorin dieser Ausstellung,
ist seit vielen Jahren ein wichtiger Sparringpartner
in meinem Atelier.
Sie berichtete darüber in meinem Seelenbriefe-Buch
und ihr Text wurde zum Ausgangspunkt für die Ausstellung.
Er ist auf dem Plakat des Nietzsche-Dokumentationszentrums
abgedruckt.
Ich danke Jisca Bijlsma für die überraschenden Verknüpfungen,
die sie in meinen Arbeiten findet.
Bei der Einrichtung der Ausstellung konnte ich mich jederzeit
auf den technischen Sachverstand meines Mannes
Victor Veldhuijzen van Zanten verlassen.
Das Nietzsche-Dokumentationszentrum lässt sich
nicht so ohne Weiteres einnehmen –
ich bin Victor für seinen uneingeschränkten
und liebevollen Einsatz für die Seelenbriefe-Ausstellung dankbar.
Äußerst willkommen beim Einrichten war auch die Unterstützung
der beiden Assistenten Peter und Ronny.
Meinem Gastgeber danke ich wie auch meinen lieben Gästen,
die aus den Niederlanden und aus Deutschland,
sogar aus Frankreich hierher gekommen sind.
Ihnen allen danke ich für ihre Freundschaft
und Treue über die Jahre hinweg,
vor allem aber für ihre Anwesenheit im Hier und Jetzt,
ihre Anwesenheit an diesem besonderen Ort
und bei diesem besonderen Ereignis in meinem Leben.
Marjolijn van den Assem (09-09-2011)
Vertaling: Kordelia Nitsch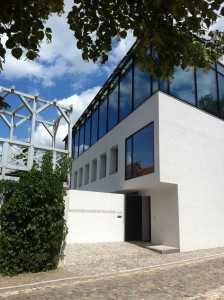 zie: Nietzsche Dokumentationszentrum(7)
zie: Nietzsche Dokumentationszentrum(6)
zie: Nietzsche Dokumentationszentrum(5)
zie: Nietzsche Dokumentationszentrum(4)
zie: Nietzsche Dokumentationszentrum(3)
zie: Nietzsche Dokumentationszentrum(2)