RUHE-STöRUNG
Streifzüge durch die Welten der Collage.
28. September 2013 – 26. Januar 2014,
KunstMuseum Ahlen zusammen mit dem Marta Herford.
Zwei Museen, zwei Städte, eine Ausstellung:
Ab 28. September präsentieren das Kunstmuseum Ahlen und das Museum Marta Herford ein gemeinsames umfangreiches Ausstellungsprojekt zur gegenwärtigen Bedeutung der Collage. Mit mehr als 400 Exponaten unternimmt die Ausstellung den Versuch, über Räume und Zeiten hinweg eine Technik des 20. Jahrhunderts neu zu bewerten und auf ihre zeitgenössischen Potenziale hin zu untersuchen. Mit der gemeinsamen Ausstellung wird die Reihe der "CollageWelten", die bereits 2001 und 2003 im Kunstmuseum Ahlen Maßstäbe gesetzt hat, in Ahlen fortgesetzt und zu ihrem krönenden Abschluss gebracht.
Es erscheint ein umfangreicher Katalog.
Eröffnung der Ausstellung Ruhe-Störung:
im Marta Herford
am Freitag, dem 27. September, um 19.30 Uhr.
im KunstMuseum Ahlen
am Samstag, dem 28. September, um 15.30 Uhr.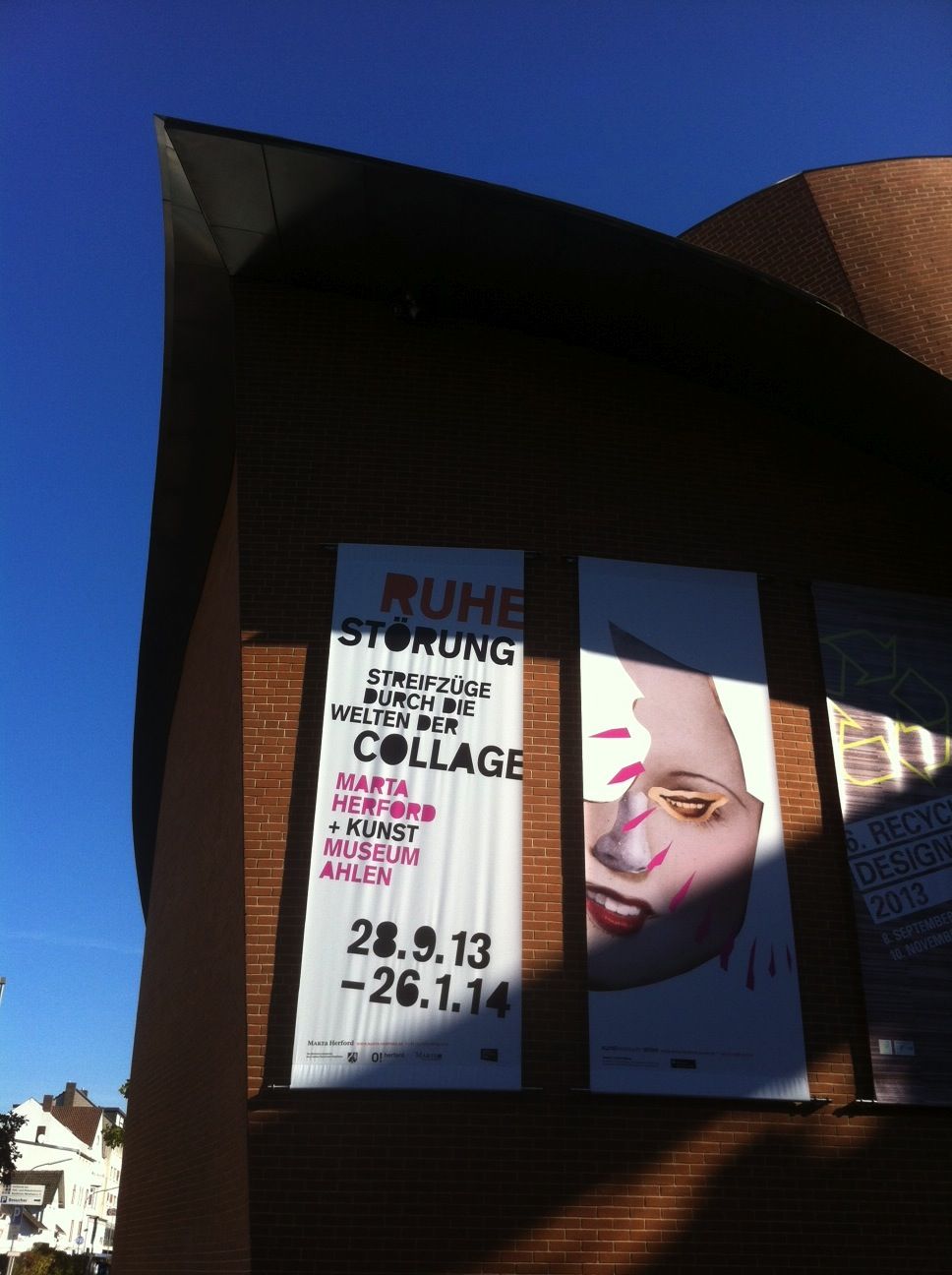 ———————-
"RUHE – STöRUNG"
Streifzüge durch die Welten der Collage
MARTa Herford Museum für zeitgenössiche Kunst (D.)
& KunstMuseum Ahlen (D.)
curatorrial team:
Dr. Thomas Schriefers (curator)
Dr. Michael Kröger (Marta Herford)
Friederieke Fast (Marta Herford)
28 September 2013 – 26 January 2014
zie: Ruhe – Störung
zie: Coming soon!
zie: Ruhe-Störung(3)
The Kunstmuseum Ahlen and the Marta Herford Museum will be presenting a joint project on the current relevance of collages. This extensive and multifaceted venture is also intended as a kind of contemporary review of the collage principle. Beyond specific locations and times, the exhibition will reassess a 20th century technique and examine its contemporary potential.
Artists in this exhibition:
Arman, Hans Arp, Joseph Beuys, Enrico Baj, Astrid Bartels, George Braque, Mark Bradford, Marcel Broothaers, Alberto Burri, Michael Buthe, Carlo Carrà, Joseph Cornell, Tony Cragg, César Domela, Jean Dubuffet, Max Ernst, Robert Filiou, Alberto Greco,  Juan Gris, George Grosz, Richard Hamilton, Raoul Hausmann, Hanna Hoch,  Ray Johnson,  Paul Joostens, Asger Jorn, Elsworth Kelly, Edward Kienholz, Jiri Kolar, Henri Laurens, René Margritte, Kasimir Malewitsch, André Masson, Henri Matisse, Gordon Matta-Clark, Mario Merz, Robert Motherwell, Louise Nevelson, Ben Nicholson, Claes Oldenburg, Cas Oorthuys, Nam June Paik, Eduardo Paolozzi, Roland Penrose, Francis Picabia, Pablo Picasso, Michelangelo Pistoletto, Sigmar Polke, Man Ray, Robert Rauchenberg, Martha Rosler, Dieter Roth, Kurt Schwitters, Agathe Snow, Daniel Spoerrie, Grete Stern, Anett Stuth, Antoni Tapies, Jean Tinguely, Rosemarie Trockel, Wolfgang von Schemm, Kara Walker,
and many others (including: …  Marjolijn van den Assem)

CATALOGUE published by KunstMuseum Ahlen and Marta Herford Museum.
Rasch Druckerei und Verlag, Bramsche(D).
(360 pages/400 reproductions)