NU TE ZIEN en/of VERWACHT en/of VOORBIJ:
Chabot Museum Rotterdam
18 september 2019 / 1 maart 2020
"Ik voel me hier gewoon thuis"
-Armando's lievelingen-
Armando's tekeningencollectie van collega's
(waaronder mijn tekeningen),
schonk hij aan Chabot Museum Rotterdam
zie: Armando's tekeningen-collectie(1)
zie: Armando's tekeningen-collectie (2)
zie: Chabot Museum 25 jaar!
zie: Schenking Armando
________________________________***
'Zomerkabinet'
door Tekenkabinet Amsterdam
GEPROLONGEERD op IJburg
op zaterdagen t/m 26 oktober 2019
zie: Geprolongeerd!
zie: Zomerkabinet
zie: 7de editie Tekenkabinet
———————————————-***
'Der Wanderer und sein Schatten'
Nietzsche Dokumentationszentrum Naumburg (Saale) (D)
'Lebensreiz' (2)
Marjolijn van den Assem
Kuratiert von Susanne Rettenwander
Mai 2020
Nietzsche Tagung 22. – 24. Mai 2020
zie: Lebensreiz(1)
zie: Lebensreiz(2)
zie: Lebensreiz(3)
zie: Atelierbezoek Susanne Rettenwander
________________________________***

'Das Bewusstsein vom Scheine' (werktitel) (solo) (2021)
Nietzsche Dokumentationszentrum Naumburg(Saale) (D)
zie: bewustzijn van schijn
zie: Schenking/Schenkung(5)
zie: Schenking/Schenkung(7)
zie: Domaine indéfinissabel(1)
zie: Domaine indéfinissable(3)
zie: Das Bewusstsein vom Scheine
zie: collections(80)
zie: Nieuw boek in 2020

_________________________________***

Kunstmuseum Ahlen (D)
i.s.m curator dr. Thomas Schriefers, Köln(D)
zie: Kunstmuseum Ahlen
zie: Ruhe Störung
_________________________________***
14 september – 2 november 2014
"The art of travelling"
de taal van de dooiwind (mainroom & the wall)
19 oktober 2014 Boek-Presentatie!
zie: das Buch / the book
zie: Boekpresentatie(2)
Opening op 14 september 2014
door Ludo van Halem
zie: the art of travelling(2)
zie: Nieuw Boek(1)
zie: dooiwind
zie: kunstwordtterugkunst
zie: the language of the thawing-wind
…………………………………………………………….***
(gratis) abonnement op "just a drawing…(iPad)"?
zie: Daily Drawing (the end)
zie: just a drawing … (iPad)
zie: just a drawing … (iPad)
zie: just a drawing(38-41)…(iPad)
zie: just a drawing (42-47 )…(iPad)
—————————————————–***
Art Rotterdam 2014 (Van Nelle fabriek, Rotterdam)
bij RAM Rotterdam (stand 40)
"the language of art"
zie: Art Rotterdam 2014
zie: ART & RAW Rotterdam
__________________________***
RAW Art Fair2014 (Cruise Terminal Rotterdam)
bij BuroRotterdam (stand 19)
zie: RAW Art Fair 2014
zie: ART & RAW Rotterdam
zie: Inschepen!
zie: Averij
_________________________***
"RUHE – STöRUNG"
Streifzüge durch die Welten der Collage
Museum MARTa Herford, Museum für zeitgenössiche Kunst (D.)
& KunstMuseum Ahlen (D.)
curatorrial team:
Dr. Thomas Schriefers(curator van de tentoonstelling)
Dr. Michael Kröger (Marta Herford)
Friederieke Fast (Marta Herford)
28 September 2013 – 26 January 2014
zie: Ruhe-Störung geopend!
zie: Ruhe-Störung(1)
zie: Ruhe-Störung(2)
zie: Ruhe-Störung(4)
zie: Coming soon!
—————————————————-***
Galerie Clement Amsterdam
"TAB@CLEMENT"
14 december 2013 t/m 11 januari 2014
Opening zaterdag 14 december om 16.00uur,
door Rick Vercauteren, directeur Museum van Bommel van Dam.
zie: Seelenbriefe
zie: Sgelare
Te verschijnen bij TAB Timmer Art Books(voorjaar 2014):
De taal van de dooiwind
—————————————————–***
RAM Rotterdam "Small Works XIV"
10-11-2013 / 05-01-2014
zie: Small Works XIV
—————————————————***
Galerie Nouvelles Images, Den Haag,
van 12 oktober t/m 30 november 2013:
JCJ van der Heyden
& vrienden
De tentoonstelling die hij nog zelf heeft voorbereid,
wordt nu een eerbetoon aan JCJ van der Heyden, die in 2012 overleed.
Vrienden:
Leon Adriaans, Marjolijn van den Assem, Ton Boelhouwer, Bert Creyghton, Ludmila Danon, Tamar Frank, Guus Koenraads, Pieter Laurens Mol, Jan Roeland.
In deze tentoonstelling is voor een groot deel het werk te zien dat JCJ Vanderheyden had geselecteerd voor zijn eerste solotentoonstelling bij Galerie Nouvelles Images in voorjaar 2012. Die tentoonstelling heeft door het plotselinge overlijden van Vanderheyden destijds helaas geen doorgang kunnen vinden. De komende tentoonstelling is in nauwe samenwerking met de familie Van der Heyden en Hans Locher tot stand gekomen.
zie: JCJ Vanderheyden & vrienden bij Nouvelles Images
zie: Saale-Revier(3)
———————————————–***
* Drawing Centre Diepenheim
presenteert:
VINDPLAATSEN & VOORTGANGSBERICHTEN
30 maart – t/m 2 juni 2013
met
Marjolijn van den Assem,  Peter Morrens (B), Marc Nagtzaam, Henri Jacobs, René Korten,
Aline Eras, Marianne Lammersen, Pascale-Sophie Kaparis (Fr)
in
DRAWING CENTRE DIEPENHEIM (zie: DCD)
Kuimgaarden 1
Diepenheim
Open: Woensdag t/m zondag van 12.00 tot 16.00 uur.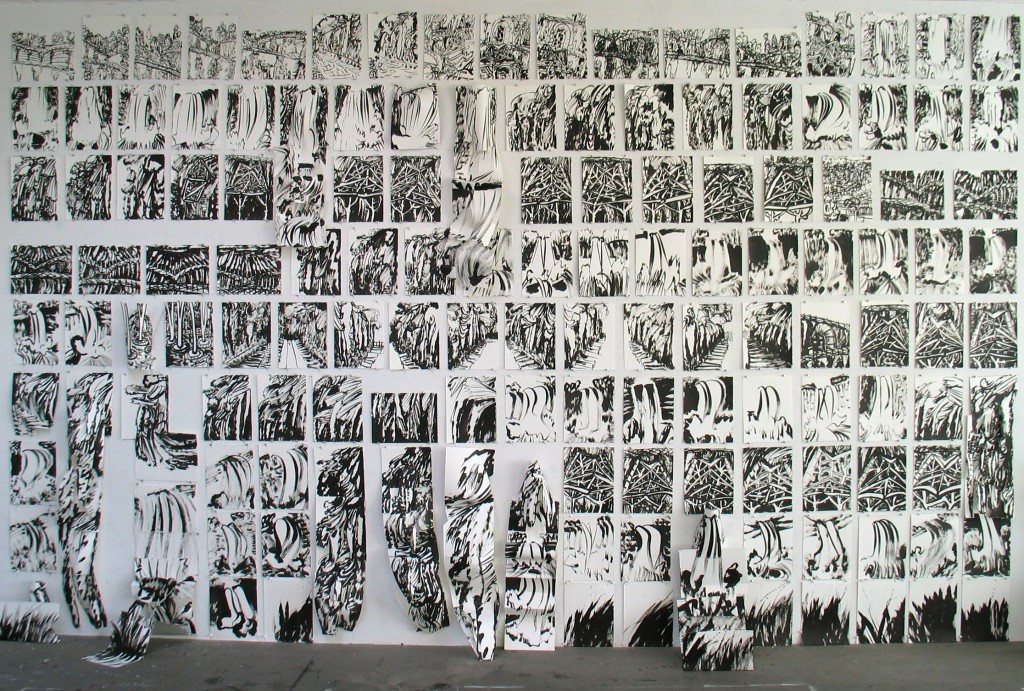 in atelier: Abbild (4) 138-delig 2008 o.i.inkt/nietjes op papier
300 x 475 x 50 cm.
zie: Drawing Centre Diepenheim
zie: INRICHTEN (Drawing Centre Diepenheim)
zie: Vindplaatsen en voortgangsberichten
—————————————————-***
*  Zwart-Wit / Black & White
(curator: Piet Augustijn)
9 februari t/m 19 mei 2013
Gorkums Museum
Grote Markt 17
4201 EB Gorinchem
zie: Zwart & Wit, Gorcums Museum.
————————————————–***
* RAW ART FAIR Rotterdam(Pakhuis Santos)
6-10 februari 2013
Buro Rotterdam(stand 26)
Tekeningen/schilderijen van:
Olphaert den Otter
Lisa Couwenbergh
Serge Game
Marjolijn van den Assem

Producers gallery BuroRotterdam presents works by four unconventional artists all in different stages of their careers.
Although they don't derive their subject material from the same source, they are united by similarities in their respective styles.
Booth 26 brings you drawing of great finesse and nuanced painting.
You are warmly invited to experience the energy of this exceptional constellation of works by Marjolijn van de Assem, Lisa Couwenbergh,
Serge Game and Olphaert den Otter.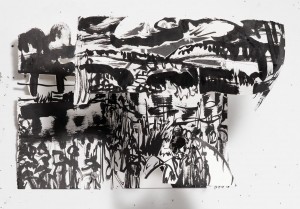 Saale – Revier(1) 2012 inkt/nietjes op papier 24x34x14 cm.
Marjolijn van den Assem
zie: tuinen van theorie(2)
zie: tuinen van theorie(3)
zie: RAW & China
zie: RAW Art Fair
zie: RAW: BuroRotterdam
—————————————————–***

* the Daily Drawing (366 iPad-drawings t/m 8-11-2012)
——————————————————***
* Van 30 juni t/m 21 oktober 2012 in het STEDELIJK MUSEUM SCHIEDAM:
"Piet en Ida Sanders. Een leven met kunst."
Tentoonstelling ter ere van de honderdste verjaardag van Piet Sanders
en ter nagedachtenis aan zijn echtgenote Ida Sanders.
Kunstenaars uit de collectie Sanders in de tentoonstelling:
Roger Ackling, Pierre Alechinsky, Karel Appel, Jean (Hans) Arp, Enrico Baj, Iginio Balderi, Claire Begheyn, Roger Bissière, Pierre Buraglio, Christo en Jeanne-Claude, Anne Chu, Geneviève Claisse, Nathan Cohen, Willie Cole, Constant, Corneille en Jean-Clarence Lambert, Wessel Couzijn, Tony Cragg, Michael Creighton, Ger van Elk, Max Ernst, Armand Fernandez, Jackie Ferrara, Barry Flanagan, Lucio Fontana, Naum Gabo, Gilbert & George, Johannes Girardoni, Alphonse Guillot, John Hejduk, Sjef Henderickx, Hendriks, Carol Hepper, Barbara Hepworth, Gottfried Honegger, Willem Hussem, Joolen, Anish Kapoor, Imi Knoebel, Harry van Kruiningen, Hildo Krop, Darren Lago, Maya Lin, Jacques Lipchitz, Charles Long, Marino Marini, Allan McCollum, Julian Opie, Meret Oppenheim, Tom Otterness, Panamarenko, Gaetano Pesce, Pablo Picasso, Serge Poliakoff, Arnaldo Pomodoro, Roger Raveel, George Rickey, Cornelius Rogge, Ulrich Rückriem, Marc Ruygrok, Salvo, Gerard Ernest Schneider, Jan Schoonhoven, Gino Severini, Joel Shapiro, Elise Siegel, Mario Sironi, Susan Smith, Jesús Rafael Soto, Malte Spohr, Susanna Starr, Piet van Stuyvenberg, Tilman, Narcisse Tordoir, Marjolijn van den Assem, Albert Verkade, Claude Viallat, Henk Visch, Carel Visser, Hendrik Nicolaas Werkman, David Ben Zadok.


incorporare 2007 (detail)
4 mm. plaatstaal, rondgebogen, uitgesneden, gelast, gepoedercoat(wit) 170x62x70 cm.
Marjolijn van den Assem in de collectie: Piet en Ida Sanders, Schiedam.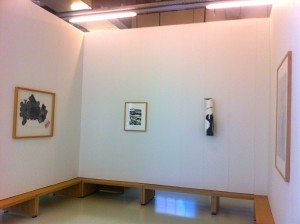 Stedelijk Museum Schiedam: Piet en Ida Sanders, leven met kunst
(links: Carel Visser, midden: mijn "Langs de Lek" en "via campagnano",
rechts: John Hejduk)
zie: Piet Sanders
——————————————***
________________________________________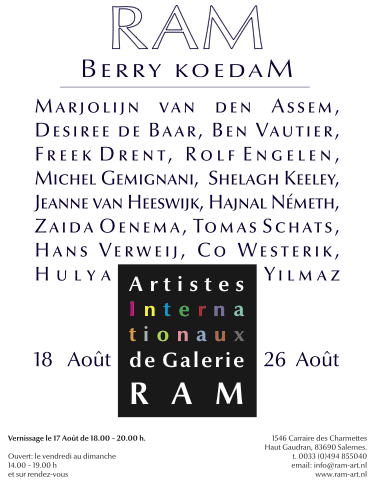 presenza(assenza) 2011 o.i.inkt op papier 25 x 31 cm. Marjolijn van den Assem.
17-08-2012 / 26-08-2012
RAM, Salernes, Frankrijk.
geopend van vrijdag t/m zondag van  14.00-19.00 uur
1546  Carraire des Charmettes
Haut Gaudran
83690 Salernes, France
en na afspraak 0033(0)494855040
info@ram-art.nl
——————————————————————- ***
* AANWINST *
Kunstcollectie Hogeschool Rotterdam
Ter ere van het 25-jarig jubileum van Hogeschool Rotterdam, toont de Kunsthal Rotterdam een selectie uit het kunstbezit.
30 mei t/m 21 oktober 2012
KUNSTHAL Rotterdam
Museumpark Westzeedijk 341 3015 AA Rotterdam
Open: di. t/m za. 10.00 – 17.00uur
zon- en feestdagen 11.00 – 17.00uur
________________________________________________***
**** Nietzsche Dokumentationszentrum Naumburg(Saale), Deutschland:
SEELENBRIEFE
Marjolijn van den Assem
drawings-paintings-sculptures
09-09-2011/20-08-2012
DUUR TENTOONSTELLING VERLENGD t/m 23 september 2012!
zie: Nietzsche Dokumentationszentrum Naumburg (Seelenbriefe)
zie: "werken met het spuug van Nietzsche", Marc van Dijk in Trouw 9-3-2012
zie: Nietzsche-symposium, Radboud Unversiteit Nijmegen:
in relatie met het Nietzsche Dokumentationszentrum Naumburg(D)
VIDEO(0:39): exhibition (basement)
VIDEO(1:26): exhibition (ground floor)
VIDEO(1:51):  exhibition (first floor)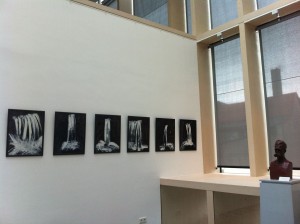 zie: Nietzsche Dokumentationszentrum(7)
zie: Nietzsche Dokumentationszentrum(6)
zie: Nietzsche Dokumentationszentrum(5)
zie: Nietzsche Dokumentationszentrum(4)
zie: Nietzsche Dokumentationszentrum(3)
zie: Nietzsche Dokumentationszentrum(2)
zie: Seelenbriefe, Nietzsche Dokumentationszentrum Naumburg(8)
—————————————–